One thousand US military to appear at Col. Derby March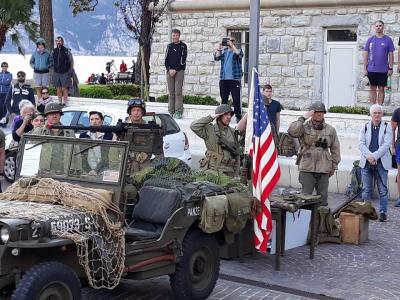 Photo credit: Col. Derby March
GARDA - The 10th edition of the Col. Derby march from Peschiera del Garda to Torbole on the eastern side of Lake Garda is set to take place on April 30.
 This year's march will see a record turnout of more than 1,200 military personnel, an increase of 350 from the 2018 instalment.
 The event was started by retired army ranger, Rick Tscherne, and has been supported by Ben Appleby, the vice-president of local Torbole history group 'Benàch', since 2013,  
 This year will mark the eighth and sixth time respectively that the two men have taken part in the march. 
 The march offers participants a chance to walk in the footsteps of the men the 10th Mountain Division who fought their way up the lake to liberate Torbole on the same day 74 years ago. 
  The walk is in honour of General Darby, or Col.Darby as he is more fondly the known, one of the founders of the American Rangers who died on the April 30 in Torbole after he was hit by a piece of shrapnel from retreating German rounds. 
 30 April 1945 also saw an American amphibious craft, known commonly as a DUKW, leave Torbole heavily overloaded with 26 men, a 75mm howitzer gun and ammunition.
 It was part of a convoy of DUKW's travelling under the cover of darkness to the town of Riva del Garda.
 During the lake crossing, the vehicle's engine gave up and a sudden violent storm whipped up large waves causing the DUKW to sink. The vehicle sank and twenty-five of the twenty-six men on board perished, the only survivor of the fateful night was Cpl. Thomas Hough, a former lifeguard from Dayton, Ohio.
 The Association Benàch, the local history society based in Torbole, have been researching this event and the liberation of Torbole by the men of the U.S. 10th Mountain Division.
 Through their research, they have traced a number of relatives of the DUKW victims, some of whom even visited Torbole. 
 In 2016, under the initiative of U.S. Army Ranger Rick Tscherne, Ranger Perry Doerr, Ron Hudnell Special Forces and Ben Appleby from the Association Benàch, and thanks to the success of a crowdfunding campaign, a monument was put up in memory of these 25 men who are still listed as missing in action. 
 The even will also be attended by the Veterans from Foreign War Post 8862 and re-enactors in the 10th Mountain Division uniform from the Association Fort Rudolph 1860-1945.
 At 18:00 in Torbole there will be a moment of reflection at the end of the 12-hour walk time limit where the church bells will ring out 25 times in memory of the MIA 25.
All participants who arrive in under 12 hours will be entitled to a memorial medal.
ba