Lazio ultras stage neo-fascist rally in Milan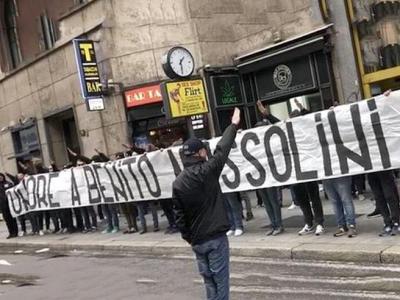 Photo credit: Corriere della Sera
MILAN - A group of Lazio 'ultras' have been pictured making fascist salutes and revering Benito Mussolini in a rally ahead of their Coppa Italia semi-final against AC Milan on Wednesday night.
 In videos of the event that have since gone viral, around 50 people can be seen gathered a stone's throw from Piazzale Loreto, a symbol of partisan resistence where Mussolini's corpse was hanged after the fall of Fascism, unravelling a banner that read: "Honour to Benito Mussolini."
 The group then proceeded to chant a number of fascist slogans while making Nazi salutes.
 The move comes mere hours before Italy's Liberation Day, which celebrates the fall of the Fascist regime at the end of World War II. 
 The Italian National Partisan Association (ANPI) were quick to denounce the Ultras' actions.
 "It is intolerable that such provocations should occur on the eve of April 25. We ask the authorities to identify those responsible," said Roberto Cenati, the president of ANPI Milan.
 "It is time to say enough. It is time to dissolve Neofascist and neo-Nazi organisations."
ea