Cinema: The heart-warming tale of modern Italian cuisine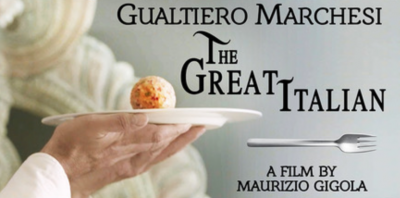 The Great Italian is set to come to Italian streaming services in April.
ROME - "Thank you Gualtiero for transforming a mundane act into art." Whether taken as a heart-warming biopic, an exploration into cuisine as art, a tour de force of culinary cinematography, or simply a homage to the founder of modern Italian cuisine, Gualtiero Marchesi: The Great Italian is a film that will leave you touched by the passion and ingenuity of one of Italy's greatest ever chefs, and likely with a ravenous appetite.
 Directed by Maurizio Gigola, the film is a constellation of Gualtiero Marchesi's life, interviews with peers and students, interactions with friends and family, moments of artistry in the kitchen and playful animations that bring the story of the eponymous great Italian to life.
 Born in Milan in 1930, Marchesi was the son of two hoteliers, founders of the famed L'Albergo del Mercato in Via Bezzecca. Exposed to the hotel's kitchen from a young age and quickly enamoured, Marchesi's is a culinary story that spans a lifetime.
 From apprenticeships in St Moritz, Lucerne, Paris, Dijon, and Roanne, to owning restaurants across Italy, France and Japan, Marchesi's influence is one that is likely felt by all diners partial to any of these three cuisines.
 Before Marchesi's arrival on the scene, Italian cuisine was one defined by regionality and lauded as 'la cucina di mamma' ('home cooking'). The concept of haute cuisine was still a distant, rather Franco-centric reality, but one that Marchesi was intent on bringing to his home nation after his formative years.
 "He brought only the best of the past into the future," were the words of one of the string of chefs he helped develop, and his reform of Italy's culinary world saw Italy's assortment of regional dishes refined and reformed to suit a more modern palette.   
 Influenced too by the Japanese, Marchesi placed great importance on simplicity and the raw ingredients Italian cuisine has to offer. Marchesi, addressing the film's producers, laments the hodgepodge of overwhelming quantities of ingredients, sauces, and complication in much of where cuisine is headed today.
 Beauty, for the chef, is in the ingredients themselves and each should be identifiable on plate and tasted in mouth. His most famous dish, after all, encapsulates just this. Cold spaghetti with caviar, shallots, and chives: brilliance in simplicity.
 Gioga's impressive cinematography, a certain match for the artistry of its subject, here too helps bring the film to life. Regular montages of Marchesi's signature dishes being prepared by his protégés create a tangible sense of proximity between the reader and the chef's famed creations.  
 Gioga, too, must be lauded for the multi-sensory viewing experience that he creates.
 The film opens with the importance of music in Marchesi's life and recounts how the man once said, "I'm not a cook, nor am I a chef. I am a composer. My duty is to create a score that can be executed by a cook."
 Music tinged his cuisine with sensibility, with harmony, with the interplay between various notes, and food for him was more than just a question of simply taste. It was a fusion of all the arts.
 This is just what Gioga does with his film: in enacting Marchesi's own aphorism, cuisine is central to the work but not exclusive. Music becomes integral to his depiction of the chef, and the regular use of art that influenced Marchesi helps add to a multi-sensory experience.
 In Gioga's Gualtiero Marchesi: The Great Italian, viewers are wonderfully taken through the life of one of Italy's greats, through the creation of modern Italian cuisine, and through everything that has been influenced since. It is a hearth-warming depiction of art and passion, and a touching reminder of the beauty of cuisine.
 Gualtiero Marchesi: The Great Italian debuted at the Cannes Film Festival and will be landing on Italian streaming platforms in April.  
ea
Gualtiero Marchesi is considered the father of modern Italian cuisine
Maurizio Gigola's wonderful cinematography helps bring Marchesi's creation to life