Pope's 'sadness and pain' over Sri Lanka terror attacks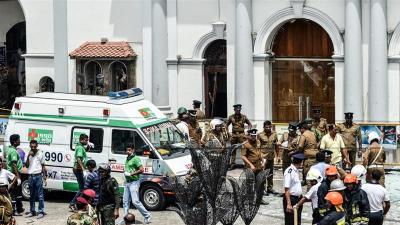 Rescue services at work after an Easter attack in Sri Lanka
VATICAN CITY – Pope Francis expressed his "sadness and pain" Sunday at the terrorist attacks in Sri Lanka that killed circa 300 Christians at churches across the island where they were celebrating Easter.
 "I learned with sadness and pain of the news of serious attacks that today on Easter Day brought mourning and pain to some churches and other meetings places in Sri Lanka," the pontiff said in his Easter message.
 "I want to show my affectionate closeness to the Christian community, attacked while gathered in prayer, and all victims of such cruel violence," Francis said.
 "I entrust to the Lord those who have tragically perished and pray for the wounded and everyone who is suffering due to this dramatic event," the pope said.
 Sri Lanka was Sunday rocked by a series of explosions that targeted churches and hotels and left at least 350 people dead and more than 500 injured, although these numbers are still rising.  
 Six of the explosions took place in the nation's capital Colombo, with further attacks carried out at St Sebastian's church in Negombo, on the west coast, and at the Zion church in Batticaloa, on the east coast. 
 24 individuals have reportedly been arrested so far, and while no group has claimed the attacks as of yet it is believed that those involved were religious extremists. 
 The government responded to the attacks by imposing a nationwide curfew and shutting down social media and messaging services as they looked to combat any further attacks.
 Cardinal Malcolm Ranjith spoke of his grief, and urged the government to "punish [the attackers] mercilessly because only animals can behave like that."
 The Community of Sant'Egidio in Rome echoed the pontiff's words in a declaration of support for the island nation soon after news of the attacks broke.
 It expressed its "deep sorrow" at the attacks, adding: "It is saddening that Christians were targted on Easter day, the most important holiday of the year, in churches also frequented by Muslims and Buddhists where believers of all religions live in a spirit of peaceful cohabitation."  
 Sri Lanka's Prime Minister Ranil Wickremesinghe Sunday stated that security services had known of a possible attack since April 4, over two weeks before Easter day, but that he had not been informed. 
 The nation's health minister alleged that security services had the names of the attackers too.
 "We must... look into why adequate precautions were not taken," Wickremesinghe told gathered reporters.
 jp