UK Ambassador welcomes British art professionals
British museum and art professionals at Villa Wolkonsky Photo Credit: FCO
ROME - UK Ambassador to Italy hosted a delegation of the British and Italian cultural elite on Tuesday evening, official sources report.
HM Ambassador Jill Morris welcomed 200 distinguished guests at her Villa Wolkonsky official residence. The event, organized by the British Council, kicked off a series of events aimed at strengthening the bilateral relations between Italy and the United Kingdom. The appointments are a build-up for the bilateral UK-IT Season of Culture, expected to commence in 2020.
This comes as the United Kingdom prepares to leave the European Union later this year and underpins the willingness to further reinforce the already strong relations with Italy.
The first delegation is the result of an open call launched by the British Council in November 2018. The entourage, featuring museum and contemporary art sector executives, was led by British Council's Director for Visual Arts, Emma Dexter, along with the Creative Director of the UK-IT Season of Culture, Jean Cameron. Alongside guests was Rome's deputy major Luca Bergamo.
Further meetings will be held at Palazzo Massimo on Wednesday and Thursday.
 gr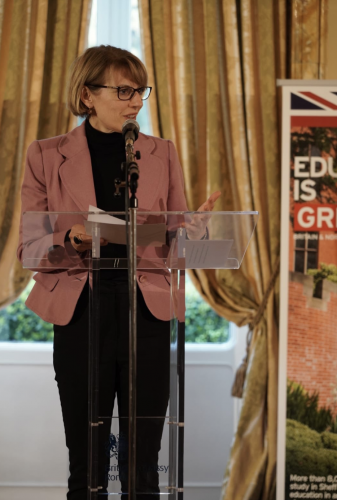 HM Ambassador Gill Morris Photo credit: FCO