Conte, Di Maio, Salvini under migrant 'kidnap' investigation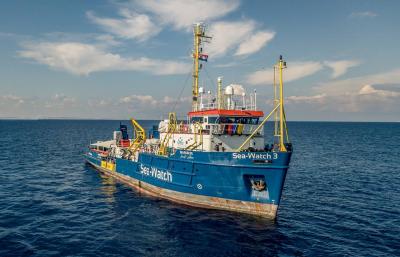 Four top Italian government officials are under investigation for their handling of the Sea Watch 3 migrant rescue ship. Photo credit: Sea Watch
ROME - Italian prime minister Giuseppe Conte is one of four senior governmental officials under investigation for Italy's refusal to allow migrants aboard a rescue ship disembark in January, judicial sources have said.
 An inquiry has been launched into the handling of the Sea-Watch 3, a boat appertaining to a German NGO.
 The ship had 47 migrants aboard at the time, but they were refused entry to land on Italian soil and were consequently held off the coast of Sicily for over a week.
 Deputy prime ministers Matteo Salvini and Luigi Di Maio and Italy's minister of infrastructure Danilo Toninelli are also under investigation.
 Salvini faced similar investigations earlier this year on a separate account of so-called migrant kidnapping.
 Italian courts decided that he should be tried for his handling of the Ubaldo Diciotti ship which had 177 migrants aboard.
 However, the Italian senate ruled that Salvini should maintain his parliamentary immunity. Conte and Di Maio's 5 Star Movement party all voted in defence of their coalition partner.
 Despite the fresh inquiry, Salvini remained unmoved in his political position once news of the investigation broke.  
 "Friends, I have been placed under investigation again … [however] my stance remains unchanged!" he tweeted on Monday night. "The ports are, and will remain, closed for the good of the Italian people."
ea