New Finnair flight route links Helsinki and Bologna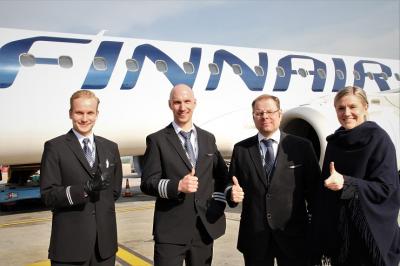 The Finnair crew celebrate the landing of Finnair's first flight to Bologna. Photo credit: Bologna airport
BOLOGNA - On a mild April morning, the Bologna's Guglielmo Marconi airport saw the landing of an Embraer 190 aircraft, with registration OH-LKE, of the Finnish flag airline Finnair.
 This was the first ever scheduled flight to connect the Finnish capital Helsinki with Bologna. The event was celebrated on arrival with a ceremony attended by passengers, crew and representatives of the Bologna airport.
 The flight is scheduled to take place three times a week until 18 October, flying on Mondays, Wednesdays and Saturdays.
 Monday and Wednesday flights can be used to coincide with the American Airlines flight Philadelphia - Bologna - Philadelphia: Finnair also sells flights from Bologna to the United States in addition to its flight to and from Finland.
 Connections to the numerous Asian destinations Finnair services will now also be available to Bologna airport. Thanks to the opening of this new route, Finnair's Italian destinations, including annual and seasonal ones, rise to six (Rome, Milan, Catania, Bologna, Pisa, Naples).
 In the March issue of its prestigious in-flight magazine, Blue Wings, the airline presented a suggestion of a gastronomic Bologna itinerary in an excellent anticipatory report, calling it "Italy's foodie capital".
ea
Thumbs up and smiles all-round for Finnair as they expand their network. Photo credit: Bologna airport