FAO candidates' 'webcasts binned' amid manipulation fears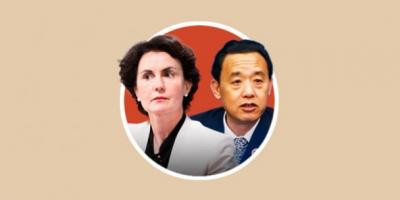 Front-running French and Chinese candidates for FAO DG. Photo credit: Jeune Afrique
ROME –  Candidates competing to be the next FAO director general set out their platforms during a Council Session last week but their speeches mysteriously were not broadcast on the webcast system of the UN agency despite explicit instructions to that effect by outgoing supremo José Graziano da Silva, FAO sources said.
 Observers judged all four candidates' performances as somewhat lacklustre but the decision not to make the webcast evidently was made by Conferences chief Raqesh Muthoo, who has been blowing with the wind whether to support the candidate from his homeland India, Ramesh Chand, or the Chinese contender. He may have considered that the French woman candidate,  Catherine Geslain-Lanéelle, would come across best on video of her performance in the Red Room and therefore should not reach a wider audience, said the sources.
 Webcasting of candidates hearings is now standard practice in UN agency elections and their absence at the FAO indicates Graziano is losing control to rogue members of his entourage as the end of his reign approaches, FAO watchers say.
 In addition to Muthoo, who has gone from a P=3 to a D-2 in the space of seven years, legal officer Ilja Betel is a key player in the interpretation of election campaign rules, according to the sources. Legal opinion was vital in the last stages of the election of Graziano who defeated an EU candidate from Spain by a handful of votes.
 China, France, India and Georgia are in the running for the helm of the troubled UN agency this time after Cameroon dropped out of the contest following promises of significant emoluments to the cash-strapped African country's coffers from Beijing, diplomatic sources said.
Under the terms of reference of their speeches candidates were asked to explain their policies on sexual harassment as part of their pitches but none had the courage to mention what they might do to deal with the repeated allegations of harassment against the Peruvian head of human resources at the FAO, Fernando Servan, whose presence at a CSIC meeting in New York last month led to protests by women delegates to the UN Secretary General.
In another development, Muthoo's on-again, off-again trophy girlfriend Jane O 'Farrell is expected to be made a P-5 as Graziano dishes out favours to his cronies In his final weeks of power. She was a G-5/6 (General Service Employee), then was made a P-2, followed by P-3, then P-4, in a trajectory widely seen as meteoric.