Exclusive: IFAD to quit ILO Tribunal amid sex scandal
Banana republic? Ashwani Muthoo (centre) at an IFAD learning event. Photo credit: IFAD
 ROME – The International Fund for Agriculture and Development (IFAD) President, Gilbert Houngbo, is asking the UN agency's board to leave the International Labour Organization Administrative Tribunal (ILOAT) so as to make it easier for management to fire staff at the poverty-busting organisation and strip employees of the tenuous protection the Geneva-based ILOAT courts provide against abuses including sexual harassment such as a new case it is considering against top IFAD executive Ashwani Muthoo, IFAD Sources said Friday.  
"IFAD staff are in almost open revolt," a senior IFAD source told the Insider. "The organization has many cases filed against it in the ILOAT, including one involving harassment by Ashwani Muthoo.  They have lost a lot of cases before. Their response is to leave the ILOAT, but they are trying to do it in secret," the source added, speaking on condition he not be named.
  "A document has been submitted to the board, but it is confidential, and staff don't know what it proposes.  This is a violation of IFAD's disclosure policy, but there is no accountability and the board doesn't care."
 Italian Insider requested a copy of the document from the IFAD press office Monday but while the press office said it would reply "as soon as possible" there was no concrete response by Friday.
 The latest ILOAT case was filed by a staff member who claims Ashwani harassed her and that IFAD did nothing to stop it or compensate her. IFAD has fought the case at every step of the way. "If they really were sincere about 'zero tolerance' for harassment they would have settled the case," the IFAD senior source said.
 Ashwani, now Director of IFAD's Global Engagement and Multilateral Relations Division, was suspended from his previous senior position at the agency in a separate sex harassment case brought several years ago by an Asian senior government official who claimed he harassed her while on a mission for IFAD. He was cleared of the allegations by an internal whitewash investigation and allowed to resume his post. Ashwani lists his educational achievements as including a PH.D from the University of Knightsbridge, which is widely regarded as a bogus 'mail order' university and is recognised by no government.
 Subsequently Indian national Muthoo and his father, a patriarch in tight-knit UN circles in Rome still on the payroll at the FAO, showed their gratitude when one of Ashwani's brothers who is a senior academic at Warwick University arranged for the then IFAD President Kanayo Nwanze to receive an honorary degree from the hallowed institution.
 Ashwani and his other fun-loving brother Raqesh, a director of the Food and Agriculture Organisation, a sister agency of IFAD, are cronies and drinking buddies of Fernando Servan, the Peruvian human resources head who had been dubbed a 'sex predator' by former UN investigator Peter Gallo of Hear their Cries, the NGO fighting sex abuse at the UN.
 A macho predatory approach to young women employees fuelled by gallons of alcohol has flourished as a lascivious senior management style at the UN food agencies in Rome during the 10 year reign of FAO Director General José Graziano da Silva, a Brazilian, who is sueing Italian Insider's chief editor in two criminal libel cases at the Rome Tribunal for allegedly tarnishing the image of the FAO.
 A "global staff survey" carried out at IFAD recently showed a complete lack of confidence in management and they are scrambling to do something about it, but at the same time they are making hundreds of staff go through a process of having to reapply for their jobs and possibly be downgraded.
  This comes after they forced dozens of staff to relocate to country offices as part of a Pol Pot-style decentralization plan.  Many staff - particularly women - quit rather than be relocated. 
"In general there is a very bad environment for female staff," said an IFAD insider. "IFAD refuses to accept that they have legitimate health reasons for not relocating."
 "As far as leaving the ILOAT is concerned, they have openly said that their goal is to make it easier to fire staff, and to not have to reinstate them if they win their case.  Nobody knows what they are planning to do instead of the ILOAT.  It is unbelievable that the board members are letting management get away with keeping the whole thing secret."
 Houngbo, a former Togo prime minister, was welcomed at first by staff who celebrated with champagne the departure of Nigerian Nwanze, who Graziano has hired as a high-paid consultant to the FAO.
 In addition to his gold-plated UN pension, Nwanze climaxed his scandal-tained presidency by setting up an African Food prize with IFAD funds and then arranged for the jury headed by a countryman to award him the dlrs 100,000 prize and keep it on ice for him to enjoy once he retired last year from his illustrious career fighting poverty around the world.
After Australian MPs read Italian Insider's exposé of Nwanze and his luxurious lifestyle at a sprawling villa where he lived like a prince on the Appian Way, Australia shelved at last minute its plans to rejoin IFAD at a cost of dlrs 250 million. Other countries such as the United States and the UK now are likely to reconsider their membership, diplomatic sources say.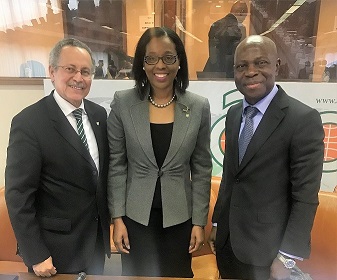 ACP Secretary General Dr. Patrick Gomes and IFAD President H.E Mr. Gilbert F. Houngbo with Chairperson of the ACP Committee of Ambassadors, H.E. Mrs. Sheila Sealy Monteith, Ambassador of Jamaica. Photo credit: ACP
Dolce vita: Rakesh Muthoo, centre left, with Elizabeth Petrovski of USAID (left), Canadian Counsellor Adair Heuchan, (centre right) and Dutch diplomat Ronald Elkhuizen