Riots see Roma people forced out of refuge centre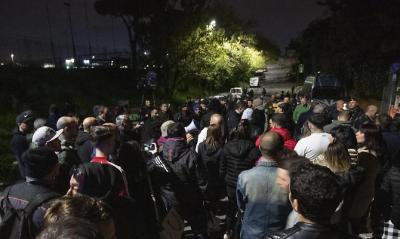 Around 300 people took to the streets to protest the arrival of Roma people to Rome's Torre Maura suburb. Photo credit: Gazzetta di Parma
ROME - Riots in Italy's capital involving neo-fascist political parties have led authorities to drive a group of Roma people out of a homeless shelter and find alternative solutions, Campidoglio sources has said. 
 The riots, spearheaded by residents of Rome's Torre Maura suburb, came to a head Tuesday evening as circa 300 took to the streets to rally against the arrival of Roma people to the area.
 Members of the neo-fascist CasaPound political party and the nationalist extreme-right Forza Nuova party were also amongst the voices of opposition to the Roma people. Members of the parties are alleged to have made facist salutes as tensions at the protest ramped up. 
 Protestors set fire to rubbish bins and a nearby car, repeatedly chanting "go away" and confronting aid workers who were bringing food to the shelter on via Codirossoni.
 Sandwiches destined for recently arrived Roma people were snatched away from helpers and trampled underfoot to ensure they did not make it to those inside the refuge.
 As a result of the riots the Roma people, among which 22 women and 33 children, will now be moved on from the shelter to other refuges in the city.
 Official sources stated: "With regards to the arrival of 60 Roma people to via Codirossoni, the Roma Office has decided to relocate them to other shelters for vulnerable people. The operation … will start tomorrow (April 3) and last seven days."
 One local resident spoke to Il Messaggero saying, "things will calm down now, but I warn you: if they are not all gone in seven days' time, all hell will break loose."
 Rome's Mayor, Virginia Raggi, was quick to denounce the riots and encouraged Rome's citizens to reject the growing climate of hatred.  
 "We cannot give in to racial hatred," she said, "we cannot give in to those who continue to fear monger. I refer predominantly to CasaPound and Forza Nuovo."
 The riots are now under investigation for criminal damage, aggression and racial hatred.
ea