Salvini warns of hijacked migrant ship headed for Italy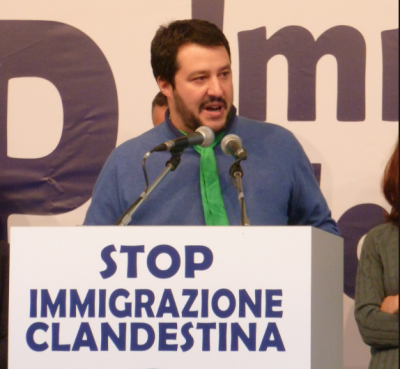 Matteo Salvini has adopted a tough line against immigration since he become deputy prime minister last year.
ROME - Italy's Interior Minister Matteo Salvini affirmed that migrants have hijacked a merchant ship off the coast of Libya and that the vessel is now on a course to Italy. 
 108 migrants were rescued by the ship on Wednesday but are thought to have seized control once they realised that they were sailing back towards Libya where they had previously suffered from violence and abuse.      
 The ship, which the Interior Ministry have revealed is named Elhibru I, was around six miles from the Libyan coast when it suddenly changed course.
 Salvini, who has previously declared Italy's ports closed for NGO ships carrying migrants and refused those aboard permission to disembark, spoke shortly after news broke of the "hijacking of a merchant which was arriving in Libya after having rescued migrants, and is now instead heading north towards Malta or Lampedusa."
"These are not migrants in distress, they are pirates," he went on to say before addressing those on board directly, saying: "Know that you will only see Italy through a telescope."
 Salvini, who went on to reiterate once more that Italy's ports were closed to migrants, was only last week at the heart of further controversy surrounding migrants.
 He first came under international pressure to release the Mare Jonio ship after it was seized by Italian authorities, and later only avoided a court case for alleged kidnapping of 150 migrants last year when the senate voted to block legal investigations. 
 The situation is currently being monitored by the Italian Coast Guard.
 Earlier Wednesday, a Libyan patrol boat rescued 120 shipwrecked migrants in waters off the North African coast, and they are currently on their way to Tripoli. 
ea