New FAO bid to close Italian Insider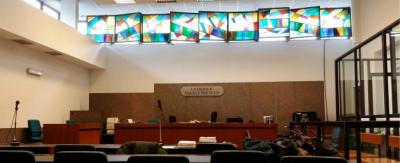 A courtroom at the Rome Tribunal
ROME — A judge at the Rome Tribunal has ordered an investigating magistrate to place Italian Insider 's chief editor under a new investigation for alleged 'clandestine publication' after a lawyer for the Food And Agriculture Organisation (FAO) requested the closure of the print issue of the English-language newspaper reporting on the UN agencies in Italy.
 Judge Massimo di Lauro made the order to the investigating magistrate Feb. 20 following a closed door preliminary hearing Feb.7 at which Avvocato Loredana Violi representing FAO DIrector General José Graziano da Silva requested that Italian Insider be closed because it had not been registered with the Rome Tribunal in 2016 when two articles written by Insider Editor John Phillips were published.
 The FAO is attempting to sue Phillips on a separate charge of criminal libel in the case claiming that the two articles on the links between Graziano and the former Brazilian President Ignacio Lula da Silva were defamatory. The investigating magistrate in the case before the hearing recommended that the defamation charge be archived on the ground that the articles were fair comment in line with the right to report the news and there was no defamation.
 The magistrate had disregarded FAO's request for the clandestine publication charge to be brought against Phillips but Judge di Lauro ordered that the magistrate consider it and inscribe Phillips as officially under investigation on the charge. Phillips' defense lawyer Avv. Manrico Andreozzi meanwhile has provided documentation to the office of the investigating magistrate demonstrating that the Insider was officially registered with the Rome Tribunal in 2017.
 The case considered at the preliminary hbearing is the second brought against Phillips by the FAO. In the first case Graziano and four FAO executives claim they were defamed by articles published in the Insider. The first case is due to resume at the Rome Tribunal in May when the court will hear evidence from a defense witness called to counter the claims by the FAO. Reportters without Borders has condemned the judicial moves by the FAO against the Insider saying that they are "disproportionate" and clearly aimed at forcing the closure of the newspaper.
 An earlier attempt by the FAO to have the digital newspaper of the italian Insider closed was rejected on the ground that the Italian Court of Cassation had ruled that news websites cannot be obscured because it would be an infringement of freedom of the press.
 red