Female staff of Vatican publication resign en masse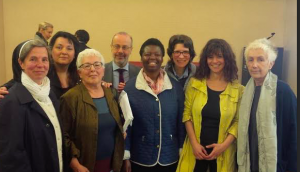 Donne Chiesa Mondo has been a voice for women in the church since it started in 2012. Photo credit: Moked
VATICAN CITY - Female staff members of the Vatican City's monthly Donne Chiesa Mondo magazine have resigned en masse in protest against a "climate of distrust and progressive delegitimisation" that has allegedly taken foot in the publication's parent company, the Osservatore Romano.
 Donne Chiesa Mondo, a magazine run entirely by women, covers women in the church and has helped bring to light incidents of sexual abuse and economic exploitation of nuns in the church dating back over 20 years.
 Donne Chiesa Mondo has been hugely popular since it was first released in 2012, however a recent change in management at the Osservatore Romano left the magazine's staff feeling that their publication had been "disempowered."
 Andrea Monda took over as editor of the Osservatore Romano in January 2019 following the tenure of Giovanni Maria Vian, under whom the magazine started, and he has since come under fire.
 In an editorial written for April's edition of the magazine, chief editor Lucetta Scaraffia wrote of a regression in female empowerment and open dialogue for the magazine. She also spoke of a return to dated customs in which women were "under the direct control of men" and selected on the basis that they could "ensure obedience."
 Scaraffia, who was writing on behalf of all those working for Donne Chiesa Mondo, went on to conclude that their choice was necessary in order to "safeguard our dignity and avoid the process of attrition that is, unfortunately, already underway."
 Scaraffia has since written a letter to Pope France announcing the move in which she echoed many of the points in her editorial, adding her dismay at the fact that "a vital initiative has been reduced to silence."
 While Monda has vehemently denied the accusations, the move will undoubtedly come as a serious blow to the Osservatore Romano.
 Donne Chiesa Mondo had been one of its most popular publications, translated into Spanish, French and English and released across Europe.
 Scaraffia, now an icon of the feminist movement, had previously spoken of the important work done by her magazine in opening up a largely overlooked side of the church in an interview with Il Post.
 "We had a new angle… on the condition of women, we were much more critical on the topic of abuse."
 Donne Chiesa Mondo's coverage of sexual abuse suffered by nuns at the hands of priests and bishops in the 1990s had been ground-breaking and had shed light on a topic that the Vatican has been reticent about, Pope Francis only beginning to address it now.
ea