Steve Bannon urges new media narrative at FPA address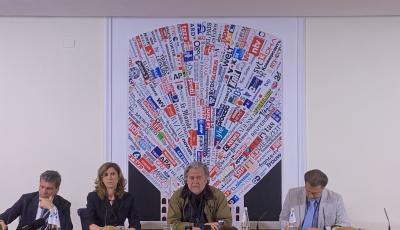 Steve Bannon addressed journalists at the Foreign Press Association in Rome
ROME - Steve Bannon strongly admonished the current political narrative upheld by the media and called on the institution to step up and self-regulate in a press conference held at the Foreign Press Association in Rome on Tuesday.
 The event was quick to turn to the recent findings of Special Counsel Robert Mueller's investigation, that this week established that there had been no apparent collusion between Russia and Trump in the latter's 2016 presidential election campaign, and Bannon condemned the media's role in how the investigation as a whole had been reported.
 Speaking shortly after the full report was revealed, Trump's former chief strategist criticised a lack of widespread contextualisation. Bannon argued that the portrayal of Trump by the media had been unfair and had not painted a clear picture of the investigation.
 "President Trump waived executive privilege in this investigation. That is a monumental aspect. No President, Nixon, Reagan, Clinton, Bush… ever waived executive privilege like Donald Trump did.
 "He gave full access. 1.1 million documents sent over from the White House to the investigation… Mueller had everything he could possibly want."
 Bannon declared that the impetus is on the media to reform its narrative and establish standards that it should have to hold itself. For Bannon, it embodies a shift that is necessary for the media to move away from the "opposition party" that, in his opinion, it has become.  
 Bannon's words echoed those of Trump who, following the release of the report, took to Twitter. "The Mainstream Media is under fire and being scorned all over the World as being corrupt and FAKE. For two years they pushed the Russian Collusion Delusion when they always knew there was No Collusion.
 "They truly are the Enemy of the People and the Real Opposition Party!"
 Bannon went on to heap praise on current populist movements. He said the movement was key to increasing sovereignty and national unity, in particular in Europe, which could then be harnessed for a more successful European Union, and institution which in his eyes is currently "not that strong".
 Bannon also criticised the role of Pope Francis in his opposition to Trump and other populist leaders across the world. The world of politics, Bannon argued, should not be the focus of theology or the church.
 "The pope should, to me, stop focussing on free citizens and populists and nationalists and sovereignty movements that are trying to get their countries back […] and he should start to focus on the metastasising cancer in the Catholic church."
 Bannon visited the Foreign Press Association as part of a tour around Europe in which he is meeting with various right-wing leaders to discuss the populist wave that is sweeping across Western nations.
 He has arranged meetings with Marine Le Pen, and representatives for Salvini's League and Alternative für Deutschland in Germany amongst others.
ea