Food: A touch of fine Mexican cuisine in the heart of Rome
Casa Sánchez is a second home to Lorenzo and Elizabeth
ROME - Try convincing a true Italian pizzaiolo that what he has just created with love, a subtle thin base gently covered with tomato and sprinkled with mozzarella and prosciutto, could be improved if he threw on some pineapple.
 Or perhaps when you next feel like a bowl of pasta when on holiday in Rome, and you've settled down in the window seat at the most authentic joint you can find on Tripadvisor, you can call out the head chef and ask to go off menu because what you really crave is some mac 'n cheese.  
 You can probably imagine the response, or the twitch in the chef's face as they see their tradition and culture corrupted.
 Unfortunately for Mexican food in Rome, every pizza has its pineapple. Or better put, every burrito is so plastered with sour cream, so overflowing with yellow cheese that eating it in polite mouthfuls is inevitably a harder task than it was to cram everything in the wrap in the first place.
 As a result, Mexican food never really crossed my mind when considering where to eat in Rome. That was until I stumbled across what looked like a family's private dining room just off Piazza Bologna and wound up in Casa Sánchez.
 You aren't met by waiters in sombreros or garishly painted murals, and you won't eat to the sound of a live Mariachi band. Rather, the walls are carefully embellished by family memorabilia from twenty years living in Playa del Carmen, the atmosphere is reservedly vibrant, and you'll eat as though you were a close family friend of Lorenzo and Elizabeth's simply popping over for dinner.
 The space is intimate with room for no more than 15 diners. Lorenzo moves between tables welcoming each new diner warmly and stopping for a chat while Elizabeth smiles on from her open plan kitchen just behind the bar. It is just the two of them, husband and wife, inviting people into their second home for a true family meal.
 Casa Sánchez opened only three months ago, on Elizabeth's condition that she would only serve the dishes traditional to her native Mexico and not those the pretenders served elsewhere, and they are already having to turn people away every night.
 Ingredients, like dishes, are only used if authentically Mexican. Whether the limes, the chilli, the Sánchez creation soup, the margaritas subtly punctuated with spice, or even the delightful Dia de los Muertos artisanal beer found nowhere else in Rome, this place is Mexican through and through.
 In fact, when I ask for a glass of tap water to go with the meal, Lorenzo looks at me with a mischievous grin and says "Water? I don't think so…". Perhaps not quite the traditional choice of drink to accompany my Mexican evening.
 Our meal took us through seven courses, starting gently with guacamole, before moving onto some quesadillas for the table and Casa Sánchez's own home recipe soup. This was simply a string of amuse-bouches before Elizabeth really began to show off her cooking skills, her dishes becoming truly uncompromising.
 Lorenzo brought out tacos filled with meat that had been cooked on top of a halved pineapple and then dyed with fruit seeds, before whisking them away and replacing them with a fresh batch, this time filled with pork that had been gently cooking for over three hours that afternoon.
 Still the dishes came out, next a third taco before a burrito made traditionally using wheat flour. At this stage of a meal, I would usually have had to give up such was the quantity of food brought out. But each dish, so relentlessly exquisite yet somehow so delicately light, meant there was still space for more.
 So when Lorenzo came out from the kitchen again, this time with a trio of homemade puddings, it was impossible to say no. We were treated to smooth dulce de leche ice cream, a real delicacy in Europe that did not go amiss, alongside a walnut sponge and a chocolate cake that oozed chocolate core and class in equal measures.
 By the time dinner drew to a close, the restaurant was emptying out but our hosts never hurried us. In fact, Elizabeth came out from the kitchen to join us in conversation, while Lorenzo led us on a crash course on the history, varieties and drinking habits of Mezcal.
 It was hard to tear myself away from the evening, but Lorenza and Elizabeth can rest assured that, with their promise of incoming al fresco dining and the addition of fish, ceviche, and octopus to the menu, I'll be heading back very soon indeed. I left with two clear impressions of Casa Sánchez: intimacy and authenticity. Both in abundance.
 Casa Sánchez is open Monday to Saturday, from 12:30 - 15:30 and then from 19:30 - 00:00. It can be found on Via Catanzaro, 6b, 00161 Roma.  
 Starters, mains and desserts range from five to nine euros, and alcoholic drinks cost a similar amount.
ea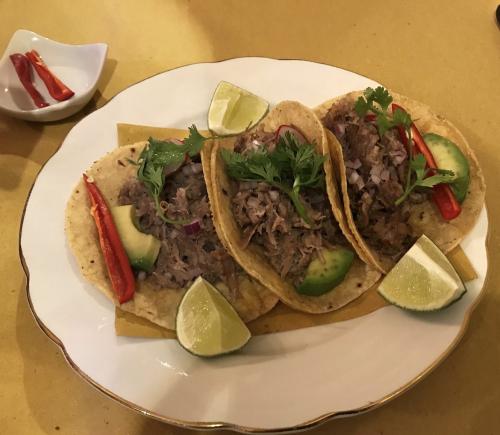 Traditional Mexican tacos with an optional spicy kick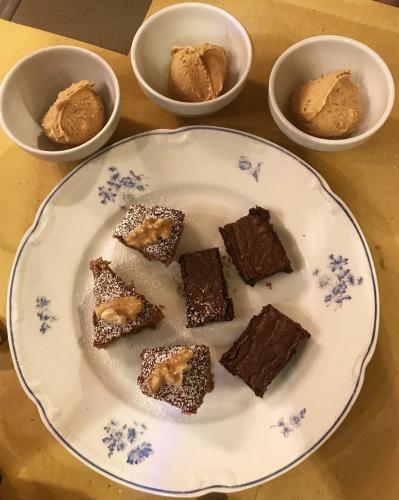 A delightful assortment of dulce de leche ice-cream, chocolate cake and a walnut sponge