Malta secret service link to Daphne murder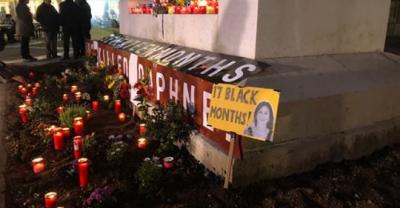 The makeshift shrine to Daphne in Valletta
 VALLETA, Malta -- Supporters of Daphne Caruana Galizia last week-end staged protests for a 17th month demanding Malta hold a public inquiry into the murky murder of the investigative journalist. But embattled Maltese Prime Minister Joseph Muscat evidently is concerned such a probe might expose Maltese Secret Service knowledge of the slaying sanctioned at the top of the island's political foodchain, diplomatic sources say.
 "Something is wrong with this Christian island of ours," Andrew Borg Cardona, a lawyer close to the family of Ms Caruana Galizia, told some 500 supporters who placed candles and flowers by a photo of the slain blogger in the central Great Siege Square of Valletta, the island capital. Bigger crowds gathered immediately after the car bomb attack killed the journalist Oct. 16, 2017, but her supporters are battling to prevent apathy setting in among ordinary Maltese.
 "I am here to re-emphasise the horror of this evil event," Mr Borg Cordona said, "I appeal to a majority of frightened but decent people to express their disapproval. Daphne was an incredible investigative journalist dedicated to pursuing her mission to help the establishment. To her truth was the most effective weapon in the fight against corruption, deceit and lies."
 Mr Muscat has said repeatedly that a public inquiry will not be held before the criminal investigation concludes. And that probe could be spun out by authorities to last decades, political sources say. One main reason why the government wants to avoid a public inquiry is because it likely would focus on why the shadowy Maltese Secret Service (MSS) was tracking one of the three trigger men in the assassination, George Degiorgio, raising the question of whether the service and its masters in the prime minister's office had knowledge in advance of the plot to kill the journalist, the sources say.
 Italian investigative reporter Carlo Bonini disclosed in La Repubblica and the Times of Malta that the MSS was tapping at least one of the phones of the alleged assassin after they were tipped off by Italian secret services of his suspected links to Italian organised crime. The revelation followed others that the Maltese Economy Minister Chris Cardona had been seen chatting to one of the three arrested alleged trigger men in a bar on the island and also the disclosure, by French TV, that he had attended a small bachelor party where one of them, Alfred Degiorgio, brother of George, was present.
 Cardona had been targeted by Daphne when she disclosed that in January 2017 he allegedly attended a brothel in Germany where he and a member of his staff enjoyed a sordid evening with a prostitute. The minister strongly denied the allegation and began libel proceedings against Ms Caruana Galizia but subsequently let the proceedings expire, effectively withdrawing them.
 Ms Caruana Galizia's family last week rejected an offer by the Maltese prime minister to drop separate libel proceedings against the heirs of the slain journalist if they accept the conclusions of the Egrant inquiry, which was held after Ms Caruana Galizia said that the prime minister's wife was the ultimate beneficiary of funds from secret Panama-registered company Egrant.
 "A public inquiry risks being open ended and out of control," says independent blogger Manuel Delia, one of the handful of courageous Maltese who have picked up the baton from Daphne. "They can arrange for the criminal investigation never to be over." Ultimately supporters of Daphne may have to seek redress from the European Court of Human Rights.
 "The right to life means that the state has a duty to find out who committed a murder," says Manuel, who has received threats himself since he gave up a business in Africa to return home and found an NGO dedicated to making Malta an open society. He is under no illusions that those who ordered Daphne's killing may not strike again.
 "Do I look under my car each morning? No, but only because if I did I could go mad," he said.
 Ms Caruana Galizia at the time of her death was working on allegations against the Maltese prime minister's chief of staff, Keith Schembri, and the tourism minister Konrad Mizzi.
 Ms Caruana Galizia said they were both financial beneficiaries of secretive "shell" companies registered in Panama. Mr Mizzi previously had been energy minister. Reports by Reuters and the Times of Malta disclosed that a Dubai company called 17 Black is owned by Yorgen Fenech, a director and co-owner of a business group that won a large energy concession from the Maltese state. In 2013, that group was granted the right by the Maltese government to build a 450 million euro ( dlrs 517 million) gas power station on the island.
 Ms Caruana Galizia had disclosed that Panama companies owned by Schembri and Mizzi had expected to receive slush payments from 17 Black. Malta watchers question why an island of just 300,000 people needs to have its own secret service, believed to be made up of less than 50 former customs agents, police officers and civilians. One reason it was set up was to assist in the battle to prevent Malta being used as a crossroads in international drug smuggling but critics say it has produced few results in the battle against organised crime.
 As if stonewalling a much-needed inquiry were not enough, Prime Minister Muscat is believed to have his eye on garnering a senior job in the European Union, possibly as Vice President of the European Commission, which would elevate him above an insistent dissatisfaction with the massive graft culture that critics say characterises his administration and the ruling Labour party. Jean-Claude Juncker has long received support from the Maltese socialists within the EU and would be willing to repay the favour, diplomatic sources say.
 Unfortunately Malta increasingly looks like a one-party state as support has fallen from the once respected opposition Nationalist Party which has been riven by infighting. Ms Caruana Galizia also targetted Nationalist Party leader Adrian Delia alleging that he was involved in re-cycling the earnings of Maltese organised crime figures made from the London Soho vice market.
 Only a dissident rump of a handful of Nationalist MPs and MEPs attend the monthly vigils in memory of the crusading journalist who in her short career exposed the extent of venal practices across the political spectrum in Malta.
 In a miserable measure recalling the practices of Communist and Nazi totalitarian regimes of the past, city dustmen during the night each month remove the flowers and candles from the memorial to Daphne within hours of them being placed there by citizens. The island's rulers claim the simple tributes 'pollute the environment,' on troubled Malta, an assertion that is laughable given that government-sanctioned building speculation is rapidly destroying the once pristine countryside of the Maltese archipelago.
 jp
Maltese Tourism Minister Konrad Mizzi, Daphne Caruana Galizia and Maltese Prime Minister's chief of staff Keith Schembri
Independent Maltese blogger Manuel Delia