Forty-nine dead in New Zealand mosque shootings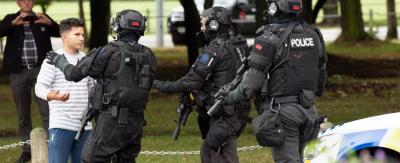 New Zealand police rushed to the scene
CHRISTCHURCH – Forty-nine people have been killed and more than 20 others have been seriously injured after mass shootings at two mosques in the South Island city.
 The shootings occurred during Friday afternoon prayers in what New Zealand Prime Minister Jacinda Ardern confirmed as "a terrorist attack," and "one of New Zealand's darkest days." Christchurch now remains on lockdown and on "high" alert.
 Three men and one woman are in custody, said Police Commissioner Mike Bush, but warned that more suspects may be at large. Authorities have advised all mosques in the city to shut down until further notice, after what Ardern described as "an unprecedented act of violence."
 Australian Prime Minister Scott Morrison has confirmed that one of the arrested is an Australian citizen, describing the suspected attacker as an "extremist right-wing violent terrorist."
 "Many directly affected by this shooting may be migrants to New Zealand, they may even be refugees here...They are us. The person who has perpetuated this violence against us is not," said Ardern.
 Witnesses told local media that they ran for their lives and saw people bleeding on the ground outside Al Noor mosque on Dean's Road. A second mosque on Linwood Avenue has been evacuated after multiple fatalities.
 In addition, police also discovered a number of explosive devices attached to suspect vehicles, which were found and defused.
 New Zealand police and social media platforms also rushed to remove a video of the shootings which was apparently live-streamed on Facebook by one of the perpetrators.
 Several Australian media outlets broadcast some of the video footage on Facebook, Twitter and Instagram, to which New Zealand police responded by calling on the public not to share the "extremely distressing" material online.
 "We would strongly urge that the link not be shared. We are working to have any footage removed," the police said in a statement.
 According to reports, the firearms used in the attack were inscribed with various names, including that of Italian right-wing extremist Luca Traini, responsible for the Macerata shooting against migrants in Feb. 2018.
if