Stolen Brueghel the Younger painting revealed as fake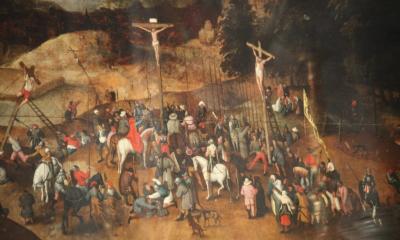 The Crucifixion by Pieter Brueghel the Younger
CASTELNUOVO MAGRA - Police have revealed that the 17th century Flemish masterpiece, The Crucifixion by Pieter Brueghel the Younger, stolen from the Santa Maria Maddalena church in the Ligurian town was in fact a fake.
 After receiving a tip-off, police were aware that thieves were planning to steal the masterpiece and replaced the painting with a copy in order to foil the heist. The original was stored away in a safe place over a month ago.
 In addition, police had installed surveillance cameras pointed at the case and waited until the criminals decided to act.
 Thieves pretending to be workers broke into the display case Wednesday morning and stole the painting worth 3 million euros from the church before escaping with it in a car.
 The town's mayor Daniele Montebello and parish priest Don Alessandro Chiantarettowere among the few people privy to the ploy, and had to uphold the pretence in the hours after the heist. Montebello told journalists that losing the painting was "a hard blow for the community."
 Wednesday evening the bluff was unveiled, confirmed by the mayor himself; "The original painting has been replaced for over a month with a copy. Rumors had begun to circulate that someone could steal the work, and so the police decided to keep it safe, replacing it with a copy and installing some cameras."
 "When the episode happened today, for investigative reasons we could not reveal anything. But evidently the reports were founded, for this I thank the police and also my community: some churchgoers had noticed that the painting on display was not the original but a copy, and fortunately did not reveal the secret," added Montebello.
 The painting was donated to the church by a wealthy family just over a century ago and was hidden during the Second World War to prevent German soldiers from sealing it.Previously, the masterpiece was the target of a successful theft in 1981 before being recovered a few months later.
if