Italy set to pay 370 million euros F-35 debt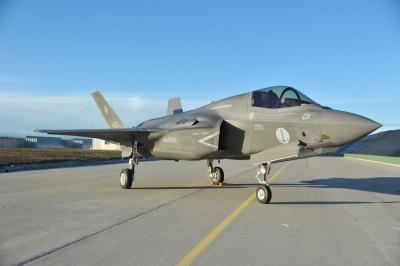 Italy is still yet to pay for its F-35 fighter jet commission. Photo credit: Lockheed Martin
ROME - The Italian Ministry of Defence has confirmed that it will now pay its debt to American manufacturer Lockheed Martin Corp for the F-35 fighter jets that it bought.
 The order of the jets has been a hotly contested one since the 5-Star Movement rose to power after last year's general election. The party greatly disagreed with the purchase in the first place, and would have liked to see the money, around 370 million euros, go towards welfare and improving Italian society as a whole.
 Since joining in coalition with the League, the 5-Star Movement have taken measures to ensure the F-35 project was reduced. Defence Minister Elisabetta Trenta spoke out on the matter, stating: "We won't buy any more F-35s […] We are assessing what to do regarding the contracts already in place".
 The initial F-35 commitment was for 131 jets, an expense around 15 billion euros, a number soon reduced to 90 by Mario Monti so as to reduce the cost to the Italian government.
 While the 5-Star Movement slashed this number even further to 20 jets, less than one-sixth of the initial commission, Lockheed Martin Corp is still waiting to be renumerated for the work it has already carried out.  
 The payment is long overdue, but the Ministry of Defence announced on Tuesday: "In the space of the next few days Elisabetta Trenta will sign that decree that authorises the payment."
 Luigi Di Maio later added: "Italy is a nation that always respects its commitments and the U.S.A. remain our principle ally. Their concerns are listened to, with the full respect of our national interests."
 This comment is thought to have been as much a pledge to deliver the outstanding payment of the F-35 jets as it is an assurance to the U.S.A. that Italy's potential deal with China will not affect their relationship.
ea