WFP names dedicated humanitarians in Ethiopia crash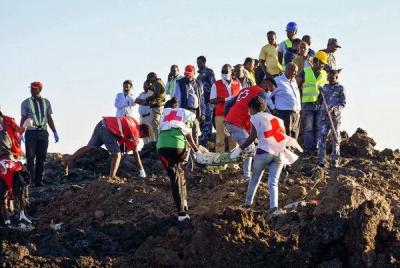 Emergency services at the Ethiopian Airlines crash site
ROME – The World Food Programme (WFP) has revealed the identities of the seven WFP staff members, from Italy, Indonesia, China, Ireland, Nepal and Serbia, who lost their lives in the Ethiopian Airlines tragedy Sunday.
 Five of the seven WFP colleagues who were killed in the tragedy had their duty station in Rome; Maria Pilar Buzzetti, aged 30 from Italy, Virginia Chimenti aged 26 from Italy, Harina Hafitz, aged 59 from Indonesia, Zhen-Zhen Huang, aged 46 from China, and Michael Ryan, aged 39 from Ireland.
 The other two staff members who lost their lives are Ekta Adhikari, aged 28 from Nepal, whose duty station was Addis Ababa, and Djordje Vdovic, aged 53 from Serbia, whose duty station was Bangkok but who was on assignment to Rome.
 "As we confront this terrible loss, we reflect that all these WFP colleagues were willing to travel and work far from their homes and loved ones to help make the world a better place to live in. That was their calling, as it is for the rest of the WFP family," a statement from the WFP declared.
 "We also mourn the loss of our colleagues at other United Nations (UN) agencies and all of those who died in the crash. Among them was Victor Tsang, a former employee of WFP who moved to the UN Environment Programme (UNEP). We ask that everyone keep those who lost loved ones in their thoughts and prayers," the statement added.
 The United Nations World Food Programme is dedicated to saving lives in emergencies and changing lives for millions through sustainable development. WFP works in more than 80 countries around the world, feeding people caught in conflict and disasters, and laying the foundations for a better future.
if