Bodies of missing climbers found on Nanga Parbat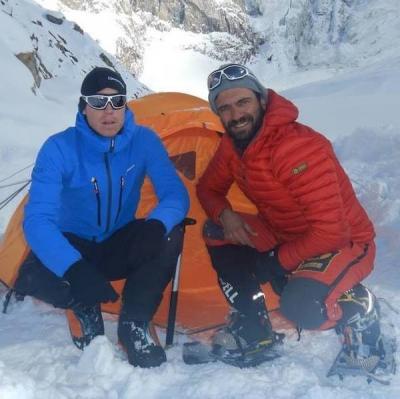 The two climbers were attempting to summit Nanga Parbat by a new route along Mummer Spur. Photo credit: Daniele Nardi Facebook
ROME - It has been confirmed that the silhouettes spotted on Nanga Parbat on Thursday were indeed the bodies of the two missing climbers.
 Italian Daniele Nardi and his companion Tom Ballard had been missing since they lost radio contact with base camp while attempting a new route up the world's ninth highest mountain on 24 February.
 The search was called off after a lack of positive results, however Basque climber Alex Txikon and his rescue team continued to search for the two men from the peak's base camp with telescopes.
 Txikon later reported that they had spotted two silhouettes which were thought to be the bodies of the two missing men, a fact later confirmed by the Italian ambassador to Pakistan, Stefano Pontecorvo.
 Pontecorvo tweeted: "With great sadness I inform that the search for Daniele Nardi and Tome Ballard is over as Alex Txikon and the search team have confirmed that the shilouettes spotted on Mummery at about 5900 meters are those of Daniele and Tom. R.I.P."
 The bodies will be hard to reach however rescue workers have pledged to try and reach and recover them both.
 Daniele Nardi's Facebook page put out a message soon after the bodies were found. It read: "We're heartbroken; we inform you that the research of Daniele and Tom has ended. A part of them will always remain on the Nanga Parbat."
 Nanga Parbat is a notoriously difficult mountain to climb, and its testing conditions have seen it pick up the name 'Killer Mountain'. The mountain has now claimed two more victims and the mountaineering world will mourn the loss of two of its beloved own.
EA