Silhouettes seen on Nanga Parbat could be missing climbers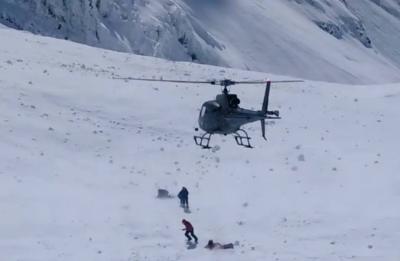 The two climbers have been missing for over a week now. Photo credit: Daniele Nardi Facebook
ROME - Two silhouettes have been spotted on the face of Himalayan mountain Nanga Parbat despite the official search for two missing climbers being called off due to a lack of "positive results".
 Italian climber Daniele Nardi, 42, and his British companion Tom Ballard, 30, have been missing since the 24 February as they attempted to climb a new route along the so-called Mummery Spur up the mountain in Pakistan.
 The climbers lost radio contact with base camp over a week ago while they made their way up the world's ninth highest peak, which has been nicknamed Death Mountain on account of its notoriously punishing conditions. 
 Searches ended this week after numerous attempts to locate the two men proved fruitless. However, a team of rescue climbers led by Basque national Alex Txikon continued to search with the use of a telescope. 
 A post on Nardi's Facebook page on Thursday put out by his entourage revealed that this latter search might have located the bodies of the two men although it is unlikely that they will be found alive following a huge avalanche that tore down the mountain and the absence of any contact. 
 Reinhold Messner, Italy's most famous mountaineer, had previously stated that there was no longer any hope of finding them alive, however locating the bodies would inevitably go a long way consoling the climbers' friends and families. 
 The social media post also thanked all those who were actively helping in the search, as well as those who lent their emotional support online and promised to keep followers updated on any developments.
EA