Pope Francis announces opening of Holocaust-era archives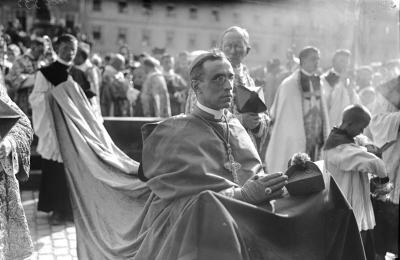 Controversial figure Pope Pius XII
VATICAN CITY - Pope Francis announced on Monday that the Vatican would open its archives on controversial Holocaust-era Pope Pius XII next year.
 "The Church is not afraid of history," Pope Francis declared in a speech broadcast around the world as he confirmed that the archives will be unsealed in March 2020, 8 years ahead of schedule.
 The move comes after sustained pressure from World War II era historians and Jewish campaign groups who have often questioned and criticised the pontiff.
 Pope Pius XII, whose papacy ran from 1939 to 1958, is viewed by many as a controversial figure. Debate surrounds his role in the war years as he never publicly fought against the deportation of Roman Jews to Auschwitz, despite internal and external pressure for him to do so.
 Some have also questioned his vacillating approach to condemning atrocities committed by the Nazis more widely, which was seen as a way to protect his position and that of the Vatican.
 The Vatican, however, has often defended Pius XII, claiming that his public stance was not an accurate reflection of his work during the years. They argue that he regularly worked behind closed doors to ensure the lives were not lost.  
 Francis echoed these thoughts, adding yesterday that the criticism of his precursor was coloured by "some prejudice or exaggeration" and speaking of his hope for greater clarity of the period.
 It is estimated that the archive could contain as many as 16 million pages of documents which include official papal correspondence and decrees.
 Pope Francis' decision has been welcomed by many in the Jewish community both in Italy and more widely.
 Yad Vashem, the World Holocaust Remembrance Centre, released a statement commending the Vatican for this latest move.
 They went on to say that the decision "will enable objective and open research as well as comprehensive discourse on issues related to the conduct of the Vatican in particular, and the Catholic Church in general, during the Holocaust."
 However, there are still voices of scepticism amongst which Riccardo Di Segni, the Chief Rabbi of Rome.
 "We would like to know which documents will become available. All of them or only a selection? We hope that the Vatican makes everything accessible."
 He later added that he believed that if these documents contained any patent evidence of wrong doing, in all likelihood it would have already surfaced.  
EA