Hope fades for missing climbers as search continues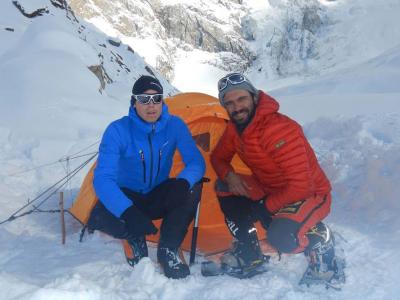 Missing climbers Tom Ballard and Daniele Nardi
ROME - There is still no sign of missing Italian climber Daniele Nardi who lost contact with base camp while scaling Nanga Parbat, nicknamed Killer Mountain, over a week ago.
 Nardi, who was attempting to scale the world's ninth highest peak alongside British climber Tom Ballard, was last heard from on the 24th of Feb. at which point the two had reached some 6,300 metres and were battling with temperatures of -40°C.
 The two were attempting to be the first to reach Nanga Parbat's 8,126 metre summit via a new route along the so-called Mummery Spur.
 While rescue attempts were initially hampered by recent political tensions between Pakistan and neighbouring India, and later adverse weather conditions, helicopters were able to continue their search this morning.
 However, their initial efforts did not prove successful and there was no sight of the two climbers from the air.
 Basque climber Alex Txikon and his team, who arrived in Pakistan to aid the rescue mission were also forced to return to camp as snow conditions proved too dangerous for them to push on further.
 Famed Italian mountaineer Reinhold Messner last week stated that there was no longer any hope of finding them alive and given the little success of the latest efforts the climbers' chances appear slim.
 Stefania Pederiva, Ballard's girlfriend, also spoke out. She spoke of her frustration at constantly waiting for intermittent updates and stated that she too had given up hope.
 Nevertheless, efforts will continue and over €70,000 has already been raised online to aid the search.
EA