Italian Frigate Margottini In Kuwait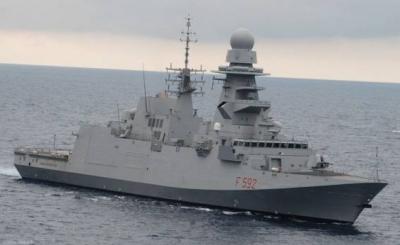 KUWAIT CITY - European Multi-Mission Frigate (FREMM) ITS Carlo Margottiniwill conduct cooperation activities with the local navy and provide support to national industry on her Naval Campaign in Middle East and Arabian Sea.
 From today to March 1, the Italian FREMM will call at Kuwait City, Kuwait, the fifth stopover of her naval campaign in Middle East and Arabian Sea, aimed at ensuring presence and surveillance for the protection of sea lines of communication of national interest. 
 This campaign is included among the activities conducted in the framework of international cooperation and dialogue among countries of that area, with which Italy maintains important political, diplomatic, economic and industrial relations.
 It is also an important opportunity to promote the national "country system" in an integrated way, assisting and supporting the activities of major representatives of the Italian defence industry, namely Fincantieri, Leonardo, MBDA and Elettronica, whose partnership with the Italian Navy and Defence contributed to the realisation of this initiative.
 After her recent port visit at Dammam, Saudi Arabia, the presence of ITS Margottini in Kuwait once again shows the Italian Navy's concern with technological developments as well as its significant partnerships with the national industry for the design and production of advanced platforms and systems such as the FREMM units.
 After leaving Kuwait City, ITS Margottini will call at Doha (Qatar) and Muscat (Oman). 
if