Mayor Orlando supports demolition of former Escobar fort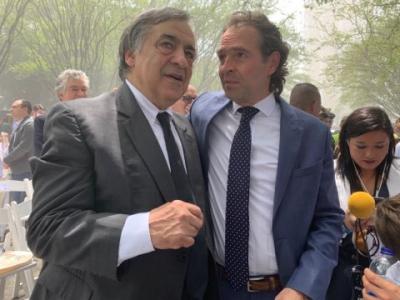 Leoluca Orlando and Federico Gutiérrez
MEDELLIN – Mayor of Palermo Leoluca Orlando took part Friday, at the invitation of Mayor Federico Gutiérrez, in the ceremony of demolition of the "Monaco," the luxury fort built by Pablo Escobar in the Colombian capital.
 In place of the building, as part of the "Medellin embraces its history" initiative, a park will be built in memory of the victims of the drug trafficker and his "Cartel."
 Gutierrez recalled during his speech how the idea was born in Palermo and how Orlando's experience in the fight against the mafia and the culture of legality was a source of inspiration for his work.
 "The history of Palermo, with its tragedies and sufferings, but above all with the commitment of its citizens, is today a model in the world. Passing from the capital of the mafia to the capital of culture and hospitality, having broken international stereotypes and local cultural models are today seen as a successful experience in liberation from the mafia," said Orlando.
if