Renaissance "rock star" emerges from shadows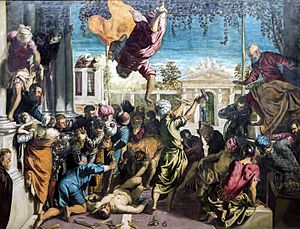 Miracle of the Slave (1548) by Tintoretto
VENICE – During the 80s, rock legend David Bowie acquired a few paintings by 16th-century Italian artist Tintoretto. At the time, Bowie considered himself fortunate to have been at an auction where the top art dealers of the world appeared to be "either asleep or on a toilet break." In recent years, the name Tintoretto has been somewhat overlooked compared with Italian superstars such as Caravaggio or Michelangelo. But the makers of a new documentary are determined to redress the balance by shifting the gaze onto an unorthodox Venetian Renaissance master who broke all the rules.
 Narrated by British actress Helena Bonham Carter, Tintoretto. A Rebel in Venice marks the 500th anniversary of the Venetian painter's birth (in 1518 or 1519). The film features interviews withart scholars and experts, including unconventional film director Peter Greenaway, highlighting the genius of the prolific artist dubbed "il furioso" (the furious), as much for the legendary speed with which he could complete a work, as for the sense of energy and movement that characterised it. The doco also explores the great rivalry between Tintoretto and the other preeminent 16th century Venetian artists, Titian and Veronese.
 Writer Melania Mazzucco, who 10 years ago wrote a book about the artist, is pleased to bring Tintoretto's story to a new audience. Speaking at Scuola Grande di San Rocco, a building in Venice with the largest collection of Tintoretto works, Ms Mazzucco says she likes the idea of ​​"starting from scratch and telling the story of the painter to … those who have never really heard of him." She describes his paintings and techniques as fragmented and multifaceted, implying he was criticised because his work didn't meet the standards of classic art. "It is complex but also immediate because his paintings pack a punch," she says. "Sometimes it moves you deeply, so for me it was a challenge to try to make others fall in love [with Tintoretto]." 
 Born in Venice as Jacopo Robusti, the nickname Tintoretto (little dyer) came from his father's profession of fabric dyer (tintore in Italian). Recognising his talent at an early age, Tintoretto's dad took the artistic child prodigy to Titian's workshop, where he is said to have lasted only a few days. Rumoured to have been jealous of the young boy's talent, the great master quickly expelled him from his studio. Tintoretto went on to gain notoriety for painting at high speed, in great volume and for undercutting the prices of his rivals, including Titian and Veronese. On occasions, in a bid to win commissions over his competitors, he even offered his services for free.
 In 1564 when a competition was held to find the best artist to paint the ceiling in one of the rooms of the Scuola Grande di San Rocco in Venice, all other painters submitted sketches as instructed. But as a non-conformist, Tintoretto surprised by installing his finished work, St. Roch in Glory, on the ceiling of the Sala dell'Albergo. When clients complained that they had not commissioned the work itself, but had only asked for drawings, Tintoretto claimed this was his way of drawing, and told them if they didn't want to pay for the piece, he would donate it to them. They accepted the gift. It was a bold move that won the artist more commissions and, eventually, he painted almost every square inch of the building. Today the Scuola Grande di San Rocco is often referred to as Venice's Sistine Chapel.
 The documentary is part of a larger project funded by Sky Arte that has seen the restoration of two Tintoretto masterpieces: The Virgin Mary Reading (1582-1583) and The Virgin Mary in Meditation (1582-1583). Painting restorer Sabina Vedovello says Tintoretto was a difficult artist to handle. "This weighty painting, so three dimensional, in reality, is made of nothing and the layers of the painting are very thin," she says. "Cleaning these kind of layers can be hard because you don't know where to start; it was very difficult and required a great deal of concentration." The two canvases are on display at the Scuola and will be flown to Washington's National Gallery of Art for the first retrospective of Tintoretto outside Europe, which is scheduled to open on March 10. 
 Ms Mazzucco is thrilled the two restored paintings, which were largely ignored until 1815, will finally awaken the rest of the world to the Italian master's artistic genius. "Tintoretto was burdened by so many shadows and I believe the way we look at art today has changed; we are freer, therefore we can fully appreciate what in the past may have been considered flaws," Ms Mazzucco says. "He wasn't understood by his contemporaries, he was ahead of his time."
 Tintoretto. A Rebel in Veniceis showing in cinemas across Italy for three days only from February 25 to 27, before being distributed to cinemas in more than 50 countries (including the USA, Canada, Spain and Australia). A graphic novel will be launched simultaneously. Many have called David Bowie an unorthodox innovator, but he saved that praise for a man he dubbed a rock star – Tintoretto – after whom he named his record label.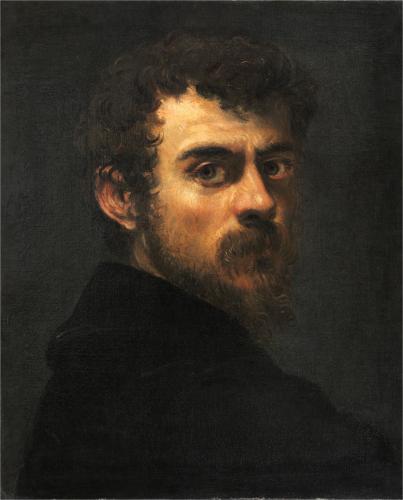 Tintoretto self portrait, circa 1547