Newman set to be first English saint since reformation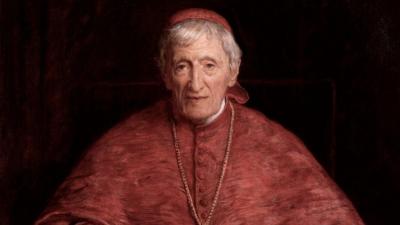 John Henry Newman set to be made a saint
VATICAN CITY – British Cardinal John Henry Newman, a theologian, scholar and one of the highest profile figures in British Catholicism, is to be made a saint after Pope Francis approved a miracle ascribed to him.
 The miracle involved the healing of a pregnant American woman from a life-threatening hemorrhage that also risked the life of her baby in May 2013. The Church claims that the recovery had no scientific explanation and occurred immediately after Newman's intercession.
 "An expectant mother was suffering from unstoppable internal bleeding which threatened the life of her child in the womb," the diocese of Westminster explained. Following Newman's intervention, it is reported that the bleeding immediately and permanently stopped.
 This miracle was the second to be ascribed to the clergyman, the first being the healing of a spinal disease of another American. The Congregation for the Causes of the Saints therefore had no doubt that these supernatural interventions could not be explained by science.
 Newman, born in 1801, became passionate about faith from an early age, entering as a pastor in the Church of England. He later founded the Oxford Movement, representing the Anglican Church, before converting to Catholicism in 1845.
 Newman was one of the most prominent Anglicans to convert to Catholicism in the Victorian era. He will become the first English saint since the Reformation of Henry VIII, and perhaps the first saint who started as an Anglican and became Catholic.
 Modest, very practical, and profoundly English, Newman worked hard once he became a Catholic, having a profound conviction that this was his true calling from God. Renowned as a poet and philosopher, he wrote hymns and was regarded as one of the great intellects of his time.
 Newman was named a cardinal by Pope Leo XIII in 1879 and died in 1890 at the age of 89.
 Following the Vatican announcement that Newman is to be made a saint, Cardinal Vincent Nichols, a senior Catholic leader in England and Wales, welcomed the news. "He brings together so many of the best of Catholic traditions shared well beyond the Catholic Church. For me the truly remarkable nature of this moment is that this is an English parish priest being declared a saint," said Nichols.
if