Rome Reborn: innovative apps to see ancient Rome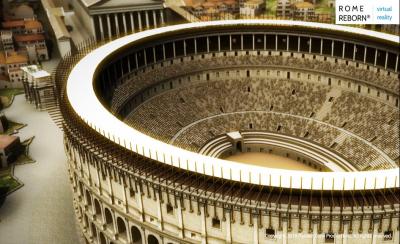 ROME - Imperial Rome has been brought back to life thanks to Rome Reborn™, an innovative international project that makes it possible to have the moving experience of touring the ancient city at the peak of its urban development in AD 320.
 Rome Reborn™ represents the biggest digital reconstruction ever created of an ancient site. Users can see more than 7,000 buildings and monuments spread over 14 square kilometres of space inside the late-antique Aurelian Walls. The detailed reconstruction of the imperial capital can be explored both at ground level as well as from the air.
 This ambitious scientific project took 22 years to complete and involved a huge team of professional archaeologists and technicians. When Rome Reborn™ was conceived in 1996, it was the first undertaking of its kind to use the new 3D digital technologies for the purpose of reconstructing a vanished ancient city. Now, 22 years later, the digital reconstruction has finally been published.
 Rome Reborn™ sets itself apart from other apps on the market by virtue of its unique content: all the elements of the city have been created with the help of a distinguished scientific panel of experts. The project adheres to the London Charter and the Seville Principles for the use of digital technology in the 3D reconstruction of cultural heritage monuments. Every product issued by Rome Reborn™ is accompanied by comprehensive scientific documentation, offering transparency to end users about what they are seeing both in terms of the literary and archaeological sources as well as the principles used to propose a hypothesis of restoration when, as often happens, a detailed source is lacking.
 Rome Reborn™ has been endorsed by the prestigious Society for Classical Studies, and its director, Prof. Bernard Frischer, has been given due lifetime awards in recognition of the importance of the project (the Pioneer Award of the International Society of Virtual Systems and Multimedia in 2005 and the Tartessus Prize of the Spanish Society of Virtual Archaeology in 2009).
 The target audience of Rome Reborn™ is the general public as well as students of the history of art, archaeology, and architecture. Rome Reborn™ is a useful resource because it makes it possible to study the monuments of Rome in their original urban context, providing a new visualization helping non-experts to more readily understand this largest and most complex of ancient cities. Like every new scientific instrument, it can also help experts to understand the city in a new way and even to make new discoveries and have new insights.
 Rome Reborn™ is also an exceptionally powerful tool of "edutainment," perfect both for anyone planning to visit The Eternal City and for those who would like to deepen their understanding of ancient Rome after a visit to the capital.
 Complementing the apps published by Rome Reborn™ is a website (www.romereborn.org), which has recently been launched, that makes it possible for users to join the Rome Reborn Community. Besides participating in online discussion forums, the members can test the degree of expertise they have developed through use of the apps, competing against each other on a Leaderboard for top honors.
 The model of Rome Reborn™ has been exclusively licensed to Flyover Zone Productions, which is the developer of the apps now being published for distribution in the major digital stores for PC and VR, including Apple, Microsoft, Oculus, and Steam. Moreover, the apps are available in select VR arcades, public libraries, schools, and universities. The languages supported include Chinese, English, and Italian.
 Flyover Zone Productions has recently signed agreements with the two principal distributors of streamed VR content for VR arcades around the world: SpringboardVR and SynthesisVR. These agreements will give Rome Reborn's apps worldwide access and visibility.
 Flyover Zone Productions, a corporation founded in 2016 by Bernard Frischer, has its headquarters in Bloomington, Indiana, USA. Its mission is to use information technology to promote the diffusion of knowledge of cultural heritage by the general public, students, and scholars.
 Rome Reborn™ was recently introduced in Rome during an event at the Foreign Press Association in Rome by: Prof. Bernard Frischer, Founder and President of Flyover Zone Productions and Director of Rome Reborn™, who spoke about the mission and history of Rome Reborn™ and gave a peek at the future apps that are being developed by Flyover Zone Productions; Prof. Paolo Liverani, Department of History, Archaeology, Geography, Art, and Theater at the University of Florence, who spoke about the importance of Rome Reborn™ as an expression of scientific research; Dr. Monica De Simone, Director of the Civic Museum of Rieti, who spoke about the usefulness of Rome Reborn™ in education and in museums; Nathanael Tavares, CEO of Flyover Zone Prouctions, who spoke about why PCs and VR headsets are the appropriate technological solutions for diffusion of Rome Reborn™. He gave a preview of future enhancements, including support for free roaming and multi-users; Antony Vitillo, consultant and Virtual Reality blogger, who spoke about the importance of Virtual Reality for the future of education and sketch out its future; Enrico Speranza, founder of SPVR, a group of Virtual Reality hobbyists and professionals based in Rome, who spoke about the current strengths and future potential of VR technology. 
 After these remarks there was a demonstration of the first three apps of Rome Reborn™ on the Oculus Go. The tours include: "The Roman Forum," "A Flight over Ancient Rome," and "The Basilica of Maxentius."
pm