Pope Francis advocates 'rural development' at IFAD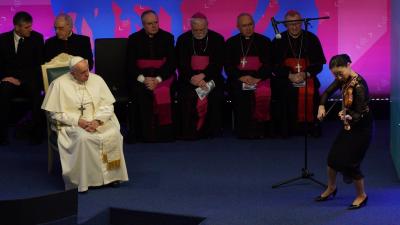 ROME – Eradicating poverty and fighting hunger is front and centre of the Pope's mind, who says we can't pass the buck on the issue.
 Addressing the 42ndGoverning Council of the International Fund for Agricultural Development (IFAD), the pontiff says rural development is the key and the international community needs to take responsibility.
 He describes as paradoxical the fact that a large proportion of more than 800 million worldwide who suffer hunger and malnutrition are farmers.
"We have to see to it that each person, each community can utilize their own capacities to live a full life with dignity," Pope Frances says. 
 "Eradication of poverty, the fight against hunger and the promotion of food sovereignty" will not be possible "without achieving rural development." 
 He went on to say that has long been talked about, but not come to fruition.
 The pope urged global decision makers to help those in rural areas become "the responsible architects of their own development."
 "Today more than ever, we must join efforts, achieve consensus (and) strengthen ties. 
 "The current challenges are so intricate and complex that we cannot continue to deal with them on an occasional basis – only with emergency resolutions."
 Appointed as IFAD's first-ever advocate for rural youth, MTV award-winning choreographer, dancer and actress Sherrie Silver echoes the pontiff's sentiments.   
 She invited world leaders to "stand on the right side of history" by investing in rural communities, agriculture and young people. 
 "And I'm challenging everyone in this room and around the world – young people, old, artists, athletes and social media influencers – to join me in transforming the future of farming."
 The 24-year-old, who gained worldwide acclaim after choreographing Childish Gambino's viral music video This is America, emphasised her African and agricultural roots. 
 Growing up in Rwanda, her grandparents were farmers. 
 At the age of five, Silver – who is on a mission to take African dance to the world – moved to England. 
 "Young people in developing countries know what they need, but they're not being heard," she says. 
 "We need equal access to education, technology, land distribution, good governance and a fair economic system."
 One of the biggest challenges facing rural communities is the perception that farming is "uncool," she says. 
 "We need to show other young people that there is a future in farming.  We need to inspire our generation to be proud to grow their own food for communities.
 "There are 7.7 billion people in the world today and by 2050 it is estimated there will be 9.7 billion – that's a lot of mouths to feed."
 After performing a violin concerto, renowned musician and UN messenger of peace Midori spoke of experiencing the "power of empowerment" first-hand on a recent visit to rural villages in Vietnam.
 That is where IFAD has worked to improve rural women's access to training and finance, supporting their participation in farming groups.
 According to IFAD, poverty, hunger, malnutrition, food insecurity and global economic crises impact rural women and girls more deeply than men and boys. 
 "What I saw was the power of equality, responsibility, and hope …. and the difference people make when they feel in control," Midori says.
 She says she learned development isn't just about financial gain. 
 "The women I met weren't just thinking about today, they were using their money to educate their children and invest in tomorrow."
 Midori also highlights the role of the arts and music in creating "sustainable happiness." 
 "Life is not just about survival but about the things that lift our spirits, enrich our souls and enlighten our minds.
 "Music has the capacity to move people and to bring people together … to nurture the peace inside us." 
pm