Books: A Chill in the Air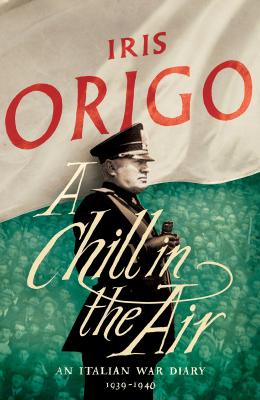 ROME - You wouldn't expect a diary written about the uncertainty over whether Italy would enter Word War II to be interesting because we know that it did.  However, Iris Origo's 'A Chill in the Air', a diary of 1939 – 40, is gripping because it records her efforts to see through the conflicting reports, the fake news, propaganda and rumors.
 Her sources ranged from the BBC, French German and Italian radios, peasant gossip and that of Fascist and non-Fascist aristocrats, to her godfather William Phillips, the US ambassador to Italy.
 It is important that initially she saw Fascism as a genuine people's revolution.  In addition, Fascist governmental subsidies aided her husband's 7000 acre estate near Siena.
 Like Winston Churchill and many others outside Italy, Origo thought Mussolini would restrain Hitler.  After all, public opinion was in favour of England and France, Italy's World War I allies, so it seemed neutrality would be the likely and sensible decision.
 But at the last moment all changed rapidly.  One influential claim was that allying with Germany would enable Italy to reclaim Nice, formerly Nizza when it was Italian and Garibaldi's birthplace, and thus complete the 19th century Risorgimento.
 After the German invasion of Belgium, in her diary Origo asked 'Is it possible to move a country to war, against its historical traditions, against the natural instincts and character of the majority of its inhabitants and very likely against its own interests?'  She had to answer yes, it is possible, because, with German troops approaching Paris, Italy opportunistically sided with Germany which was to prove disastrous. 
 This is relevant during today's misinformation glut.  In Italy, for instance, it is hard to understand whether or not the government wants to reform or abandon the European Union which it casts as an enemy.  Abandoning it does not seem a sensible choice but neither did allying with Germany in 1940.
 'A Chill in the Air' is the prequel to Origo's best- selling 'War in the Val d'Orcia' which recounted how she and her husband risked their lives by aiding escaped Allied soldiers, who had been prisoners-of-war, and also Partisans, and then led scores of peasants, old people and children through minefields to save them from Nazi-Fascists.
 In that book, the goodies and baddies were clearly defined but the prequel shows the earlier situation was more complex with those actively opposed to the regime a small minority. Only now, seven decades after 'War in the Val D'Orcia', has 'A Chill in the Air' been published with a fine introduction by Lucy Hughes – Hallett and an afterword by one of Origo's grandchildren, Katia, who recalls that her nonna frequently organized picnics, charades, plays and above all read to her and six other grandchildren.
 Origo, the daughter of a wealthy American who died when she was seven, was raised at a former villa of Cosimo Medici near Florence with Bernard Berenson, Henry James, Edith Wharton, Aldous Huxley and Somerset Maugham as visitors to the salon of her Anglo-Irish mother. Her father had wanted her to be free of nationalistic sentiments but she married Marquis Antonio Origo and became attached to Italy as shown by her biographies of Italians such as the poet Giacomo Leopardi.
 In 'A Chill in the Air' she rarely talks of herself or her family but provides significant scenes, for instance when, on 10th June 1940, the order arrived from the local Fascist office that all should listen to Mussolini's broadcast from the balcony of Palazzo Venezia in central Rome.
 About 80 peasants and workmen plus farm supervisors and school teachers gathered in the front garden of the Origo villa to hear the amplified speech.  Mussolini announced that Italy would enter the war to break the Anglo-French hold on the Mediterranean, champion the poor against the rich nations and the young against the decadent.
 The crowd in the square below Mussolini's balcony was enthusiastic but not those in villa garden who left silently.  Iris and Antonio entered their home and looked at each other.  "This is it" says Antonio, "I'm going to look at the wheat."
 Origo mentions her successful efforts to arrange for her mother and step-father (the essayist Percy Lubbock) to leave Florence before their arrest as enemy aliens but does not dwell on this as a possible problem also for herself.
 Towards the end she also writes that she is about to give birth – the first mention of her pregnancy. The child, who she called Benedetta, now runs her mother's estate La Foce (which means the estuary or the mouth - of a river) which tourists can visit and also rent accommodation.
A Chill in the Air
Iris Origo
New York Review Books 184 pages, $US 15.95 in USA.