Sardinian farmers protest over tumbling milk prices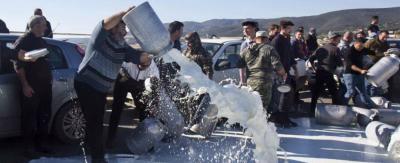 SASSARI - The falling price of sheep and goat's milk pushed farmers to further protests Sunday morning in the Sardinian province, from Cagliari to Nuoro, and Porto Torres. Over 100 protesters stopped for hours the refrigerated trucks carrying pig meat arriving from France and threw much of the load on the ground, asking for the intervention of the health authorities and denouncing "the poor condition of the goods destined for the local market." Their action was interrupted by the intervention of police forces.
 The first complaints were received Saturday in response to demonstrations in Ortacesus and Senorbì, where between 4,000 and 7,000 litres of sheep's milk was spilled in front of the gates of the dairy company Serra. Police investigations led, thanks to videos released on social media, to the identification of five managers who were reported for the damage.
 After the attacks on the dairies, some cooperatives suspended the collection of milk, declaring "There is no security." On Saturday evening, a cooperative released the message that the milk collection service "will be temporarily suspended until further notice, given the recent events" because "there are no longer any safe conditions for the transport of the product and for the driver himself."
 Declining milk prices, which have slipped below 60 cents per litre, now no longer even cover the costs of breeding and feeding.
 Minister of Agriculture, Gianmarco Centinaiorevealed that, regardless of the protests, a meeting on the issue had already been scheduled for Wednesday. He also announced "Saturday and Sunday I will be in Sardinia because I want to talk to them, to know from them if what we decide is something that can be accepted." However, despite recent institutional meetings and the announcement of Centinaio's upcoming visit, a solution to end the protests remains unclear.
 In fact, Sardinian farmers have launched an ultimatum regarding the regional elections set to take place on Sunday Feb. 24. They have voiced that if a solution to the dispute on the price of milk is not found within a few days, "we will block Sardinia on February 24, the day of voting … nobody will vote, we block democracy."
 In response, Secretary of the Democratic Party Maurizio Martina intervened, saying "Now the government must deal with them immediately, calling them immediately to a table at the ministry." The former Minister of Agriculture concluded by proposing "The creation of a sheep milk fund of at least 25 million euros" and "a supply chain agreement for pecorino cheese that starts from the estimated production costs."
 On the matter, Interior Minister Matteo Salvini expressed "I am with the farmers." He also wrote "Nobody can remain indifferent," to Martina on Facebook.
if