Pope Francis addresses 100,000 in historic UAE visit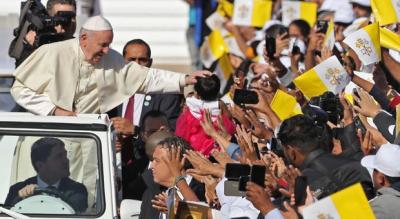 Pope Francis greeted the crowd before his address in Abu Dhabi (Il Messaggero)
ABU DHABI – On the last morning of his historic visit to the United Arab Emirates, Pope Francis addressed over 100,000 Catholics from around the world in the Zayed Sports City stadium.
 Chants of "viva il Papa" greeted the pontiff on Tuesday as he gave the first Papal Mass in Abu Dhabi, marking the first time a Pope has visited the Arab peninsula.
 Francis urged Christians living in Muslim countries such as the UAE to seek meekness rather than conflict in his address, after the Beatitudes from the gospel of Matthew were read.
 The pontiff met with the grand imam of al-Azhar on Monday, signing a historic declaration of fraternity which called for peace between religions.
 Both the Vatican and al-Azhar have pledged to work in tandem to fight religious extremism. "We resolutely declare that religions must never incite war, hateful attitudes, hostility and extremism, nor must they incite violence or the shedding of blood," the declaration reads.
 During this historic visit, Francis also called for an end to wars in the Middle East, specifically Yemen, Syria, Iraq and Libya. "We are here to desire peace, we are here to promote peace, to be instruments of peace," he said in a Monday evening address.
pm