Sea Watch 3 migrants disembark in Italy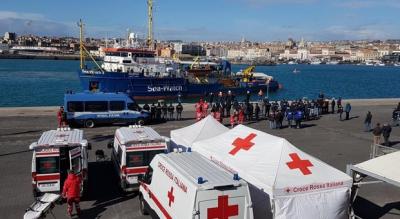 CATANIA – The 47 migrants aboard Sea Watch 3, the stranded rescue boat off the coast of Sicily, finally disembarked the vessel, ending a standoff that lasted 12 days, as Italy continually refused to take them.
 "We are happy that this European hostage-taking is ending," Sea Watch spokesman Ruben Neugebauer was quoted as saying, adding that Europe should be "ashamed" that the migrants were left in limbo for such a long period of time.
 The European Court of Human Rights had compelled Italy to provide medical assistance, food and drink to those on board Sea Watch (http://www.italianinsider.it/?q=node/7667).
 The vessel docked at the port of Catania early on Thursday morning, and those on board were seen to be embracing and celebrating their arrival.
 The Italian government has formalised an agreement for the redistribution of the migrants on board Sea Watch 3 with Germany, France, Portugal, Romania, Malta and Luxembourg, Interior Minister Matteo Salvini said. 
 Salvini, however, has urged the Catania prosecutor, who reportedly has been known to take a hard-line against boats such as these, to investigate the Non-governmental Organisation and impound the vessel. "We hope for the best, and expect the worst," Sea Watch tweeted after being forced to dock in Catania.
pm