Trasimeno Music Festival 2019 launched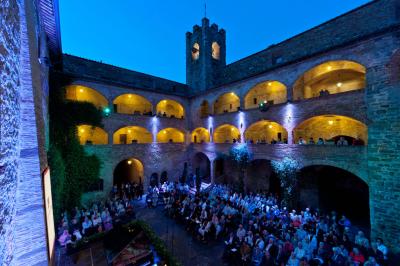 UMBRIA - The 15th edition of the Trasimeno Music Festival (TMF) will be held from June 29 to July 5 2019, with the artistic direction of the Canadian pianist Angela Hewitt. The festival unites music-lovers and musicians from all over the world for a week in an intimate setting.
 The Basilica Superiore di San Francesco in Assisi, the Castle of the Sovereign Military Order of Malta in Magione, the Basilica of San Pietro and the National Gallery of Umbria in Perugia, and the Teatro Signorelli in Cortona, will welcome internationally famous interpreters of classical music and talented young musicians who, in the space of a week, will take to the stage and perform for spectators from across the world.
 For the audience, it provides the opportunity to experience a different concert every night in various beautiful settings.
 In addition to the eight concerts scheduled in the seven days, the festival will also offer a range of public events. On July 2 at the Signorelli Theatre in Cortona, there will be an English screening with Italian subtitles of "The Children Act - The Verdict," the film adapted from English writer Ian McEwan's novel "The ballad of Adam Henry." This event will also provide the opportunity to meet McEwan himself.
 On June 28, "Anteprima Festival", a free concert with talented young musicians will be held in the square of the village of San Savino overlooking Lake Trasimeno.
 During the period June 25 - July 10, all ticket holders for any concert included in the TMF program will be able to visit the National Gallery of Umbria in Perugia with a reduced entry fee of four euros instead of eight euros.
if