European frigate leaves for Middle-Eastern campaign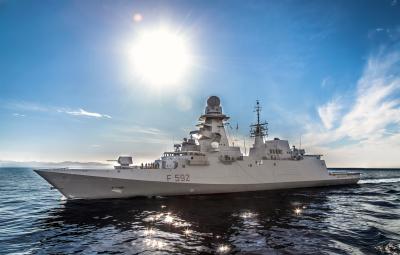 Copyright Marina Militare
LA SPEZIA – The European Multi-Mission Frigate (FREMM) Carlo Margottini has departed from the La Spezia naval base to conduct a naval campaign in the Indian Ocean, Middle East and Arabian Sea, with the aim of ensuring presence and surveillance for the protection of sea lines of communication of national interest.
 This campaign is included among the activities conducted in the framework of international cooperation and dialogue among countries of that area, with which Italy maintains important political, diplomatic, economic and industrial relations. It is also an important opportunity to promote the so called "Sistema Paese" (Economic Promotion and Innovation) in an integrated way, assisting and supporting the activities of major representatives of the Italian defense industry, namely Fincantieri, Leonardo, MBDA and Elettronica, whose partnership with the Italian Navy and Defence contributed to the realization of this campaign.
 ITS Margottini will stop in Karachi (Pakistan), where she will take part in the Aman 2019 exercise (organized by the Pakistan Navy) along with other 19 countries; Abu Dhabi, where she will participate in the "Naval Defence Exhibition"(NAVDEX 2019) in the framework of the "International Maritime Defence Exhibition & Conference" (IDEX 2019); Kuwait City (Kuwait); Dammam (Saudi Arabia), and Muscat (Oman). 
 The participation in IDEX-NAVDEX 2019 shows the Italian Navy's commitment totechnological developments as well as its significant partnerships with the national industry for the design and production of advanced platforms and systems such as the FREMM units.
 Media partners of the naval campaign are Rivista Italiana Difesa (RID), Report Difesa and Agenzia Nova.
 The frigate Carlo Margottini - commanded by Commander Marco Guerriero - is the third unit of the Italo-French FREMM programme and the second in ASW (Anti-Submarine Warfare) version. She was launched on 29 June 2013 in the Riva Trigoso (Genoa) shipyard, delivered to the Italian Navy on 27 February 2014, and received her battle flag on 22 April 2016 in Reggio Calabria.
 Identified by the hull number F 592, according to NATO classification, the ship has a displacement of 6700 tons, can reach a speed of 27 knots, and has a crew of 168 men and women.
 This new-generation frigate can be deployed in an extensive range of missions.
 Since her commissioning, ITS Margottini has taken part in the following activities:
2014: Operation Mare Nostrum;
February 2015: Smart Hunt anti-submarine exercise, with the German Navy;
June 2016: activity with the US Navy for the promotion of the Green Fleet;
May 2017: Mare Aperto 2017 exercise;
March 2018: first naval diplomacy campaign in Middle East.
 ITS Margottini has also participated in operations Mare Sicuro and Atalanta, providing presence, surveillance and maritime security.
pm