Video of Battisti's return to Italy heavily criticised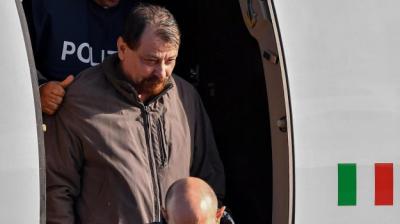 Cesare Battisti arriving at Ciampino airport
ROME - Italian Ombudsman demands that the Ministry of Justice remove from the internet a video gloating the arrest in Bolivia of left-wing terrorist Cesare Battisti which is seen as infringing prisoners' rights, Il Fatto Quotidiano reports.
 "I hope he will remove it," The National Guarantor for the rights of prisoners, Mauro Palma declared as he criticised the video-spot of Cesare Battisti's arrest published by the Minister of Justice, Alfonso Bonafede.
 The video summarises the day of Battisti's return to Italy, from his arrival at Ciampino airport to his transfer to Oristano prison.Already viewed by over 3,000 people on the internet and critiqued by some internet users who even branded Bonafede as "a clown," the Criminal Chamber of Rome announced that they were ready to make a statement about the affair.
 The statement highlighted that the overwhelming disapproval of the video is especially pertinent given Interior Minister Matteo Salvini's previous assertions at a political rally in Oristano. "Unfortunately it adds to that reference of 'rot' that the Interior Minister had repeatedly expressed".
 According to Palma, the phrases and images that "aim at acquiring consensus through a language foreign to that of the Constituent, end up consolidating a culture of social disintegration." For this reason, the management of the arrest "would have required a sombre attitude on institutional and communicational levels" but "it was not so", explained Palma. David Ermini, the vice-president of the High Council of the Judiciary, also agreed with the view of the video as being an inappropriate spectacle. "I speak on a personal basis, I would not have done it," he said.
 The publishing of the video also follows the tweets that Salvini posted in anticipation of Battisti's arrival in Italy. "I am proud and moved," he wrote. The populist government seems to have overstepped the mark with their get-tough law and order stance in this case though evidently, they do not appear to want to withdraw the video which was assertively published as an "unforgettable day".