Athletics team launch reveals Vatican Olympic ambitions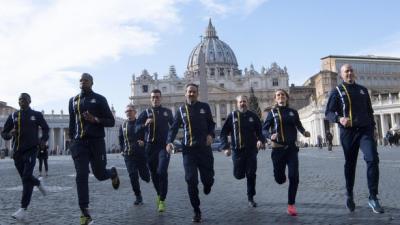 VATICAN CITY – The Vatican has announced the inception of its first ever athletics team, and aims to begin competing in international competitions, representatives from the city state have reported.
 Around 60 individuals from the Holy See, including a 62-year-old librarian, have become the first accredited members of Vatican Athletics.
 "The dream we have often had is to see the Holy See flag among the delegations at the opening of the Olympic Games," said Monsignor Melchor Jose Sánchez de Toca y Alameda, president of the team.
 An agreement made with the Italian Olympic Committee (CONI) means that the team is now part of the Italian track association. It will also look to join the International Association of Athletics Federations (IAAF).
 Though representation at the Olympics is the ultimate ambition, the president of the team recognised that it was very much a long-term goal. For now, he said, they would look to participate in events with cultural or symbolic value.
 A member of the team, pharmacist Michela Ciprietti, reiterated this intention, saying that the team doesn't just have competitive ambitions, but also wants to "promote culture and running and launch the message of solidarity and the fight against racism and violence of all types."