Journalists attacked at neo-fascist memorial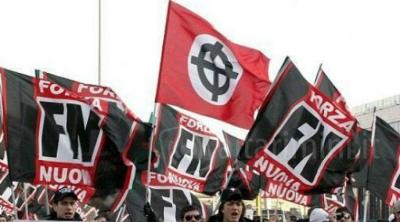 ROME – Two journalists from L'Espresso were threatened and attacked by members of various neo-fascist groups as they reported on a memorial service held for the Acca Larentia killings, Il Fatto Quotidiano reports.
 Federico Marconi and photographer Paolo Marchetti reportedly found themselves surrounded by members of Avanguardia Nazionale, Forza Nuova and Fiamme Nere as they attempted to discreetly cover the memorial at the Verano cemetery in Rome.  
 The group forced Marchetti to remove any footage or pictures he had taken of the service from his phone, threatening physical violence, the pair report in a story published by L'Espresso.
 The head of the Roman branch of Forza Nuova Giuliano Castellino took Marconi by the neck, while others kicked and punched him, the journalist alleges.
 Castellino, who was somehow present at the memorial despite being under special surveillance, also took the journalist's wallet and phone, which were not returned until DIGOS officers eventually stepped in, L'Espresso reports.
 The paper's editors remained defiant in the face of the attack, writing that they "will not let themselves be intimidated by these fascist actions," which they branded "vile and shameful."
Rome's mayor Virginia Raggi condemned "all forms of violence and neofascism" in the aftermath of the incident, branding the conduct of the neo-fascist members "unacceptable." Interior Minister Matteo Salvini added that "the place for any attacker is jail."
 Salvini also promised to investigate how Castellino had been allowed to freely attend the event but gave reassurances that the arrival of long-awaited electronic tags would provide great assistance in surveillance measures.
 The memorial service was held in honour of three members of the far-right Italian Social Movement (MSI) who were gunned down on Jan. 7, 1978 by a group of leftist extremists.