Majestic Hamilton leaves Vettel to rue Ferrari mishaps
Hamilton celebrates his world title in Mexico in style
ROME – Another year, another missed opportunity for Ferrari. For the second season running, a Formula One world title was within reach for Sebastian Vettel, only for Lewis Hamilton and Mercedes to snatch victory.
 Consistently outstanding performances in the second half of the season saw Hamilton romp to his fifth World Championship, drawing level with Juan Manuel Fangio and now just two behind the great Michael Schumacher. As impressive as the Mercedes driver was, many, including Ferrari team boss Maurizio Arrivabene, considered "driver mistakes" a significant factor in Vettel and Ferrari's inability to capitalise on the high performance of their car, while questionable team tactics did nothing to help the German's cause.  
 In the previous 2016/17 season, two retirements in Singapore and Japan all-but ended Vettel's title chances as Hamilton recorded five wins in six races to disappear out of sight. This time round, those behind the scenes in the Scuderia garage produced a V6 engine with almost 1000 horsepower that performed smoothly race after race, eliminating the reliability issues that had previously plagued the German. In fact, it seemed as though the Italian outfit had even managed to outdo Mercedes in the pace department at certain crucial points in the season.  
 Instead, errors at pivotal moments from both Vettel and his team allowed Hamilton to stretch his lead, despite driving a poorer performing car. In the four-race stretch between the German and Italian Grand Prix, Hamilton picked up three wins and a second place, gaining 40 points more than his title rival, even though Ferrari had a clear pace advantage.  
 Vettel only managed to make the Ferrari's superiority count in Belgium, where he overtook Hamilton on the first lap and controlled the race thereon. This victory apart, he crashed out inexplicably in the wet at Hockenheim after leading from lap one, while poor team decisions in Hungary and an early crash in Italy gifted Hamilton vital wins.
 In fact, Mercedes' victory at Monza kickstarted a run of four wins on the bounce for the Englishman, while Ferrari mistakes again cost Vettel points in the race for the title. At Singapore, the German was well placed in second when the team tried to undercut Hamilton, bringing Vettel into the pits to change to the less durable ultra-soft compound tyres. The driver immediately questioned the decision on race radio, saying, "we are again too late, the tyres will not make it to the end."
 The four-time world champion, perhaps unsurprisingly, was proved right, as the flawed strategy left him defending a podium place, rather than challenging for the lead. To rub salt into Vettel's wounds, Red Bull's Max Verstappen overtook him later, relegating him to third. "We beat ourselves," the dejected German said in a post-race interview.
 While there is a certain truth to Vettel's statement, Hamilton's brilliance over the course of the season cannot be underestimated. The Briton was remarkably consistent, securing a podium place in all but three races, recovering at times from dire situations to limit his losses to Ferrari. At his home Grand Prix, for example, the Mercedes driver's ability to keep a cool head under pressure was pushed to the limit.
 A fairy-tale weekend at Silverstone seemed guaranteed as Hamilton produced a phenomenal lap in qualifying to take pole, only for a crash with Raikkonen on the first lap of the race to send him to back of the field. A masterclass in overtaking then ensued, as the Briton worked his way up to the front runners and stealing second place courtesy of Mercedes' bold pit-stop strategy.
 On a day that could have dented his title hopes, Hamilton dropped just seven points to Vettel. Two weeks later, at Hockenheim, Vettel's calamitous crash gifted Hamilton the championship lead and the Brit didn't relinquish it for the rest of the season.
 Though Ferrari's tactical issues at Singapore were plain to see, the Mercedes paddock put huge pressure on the Italian team with a perfectly executed qualifying session. The Marina Bay Street Circuit, with its twisty, slow-speed corners, should have suited Ferrari and Red Bull far better, but Hamilton pulled off a "magic" lap, as he later described it, to take an unlikely pole position. From there, he controlled his pace brilliantly on race day, while Ferrari imploded with dubious strategic moves.
 "It's stardust. I can't explain what happened. Lewis is just an exceptional individual, and an exceptional driver," Mercedes Team Boss Toto Wolff said in the aftermath of Hamilton's extraordinary Singapore qualifying lap. No-one at Mercedes, or in the Formula One world for that matter, is under any illusion about the sheer talent the five-time world champion possesses.
 Mexico was the eventual site for Hamilton's coronation, a formality by that stage after back-to-back wins in Russia and Japan had ensured his gap to Vettel was effectively unbreachable. A fourth-place finish was hardly the blaze of glory many had hoped Mercedes would produce, but Hamilton again managed to grind out an important result, despite struggling with his tyres throughout the race.
 "The best parts of the season have been when we're on the back foot and it's not looked great – but we managed to claw our way back and collectively do a better job overall than their team and their driver," Hamilton said, recognising the contribution of Mercedes' entire team towards his success. Equally, Ferrari and Vettel were simply unable to replicate the Briton's scrappiness, often imploding when faced with fierce competition for points.
 As much as Ferrari underperformed at crucial moments throughout the season, Hamilton's raw ability guaranteed that Mercedes capitalised on their rivals' every mistake. From majestic performances to hard-fought results, he outclassed Vettel at every turn on his way to a fourth world title in five years and firmly cemented his place among the greats of a sport that for so long had been dominated by Ferrari.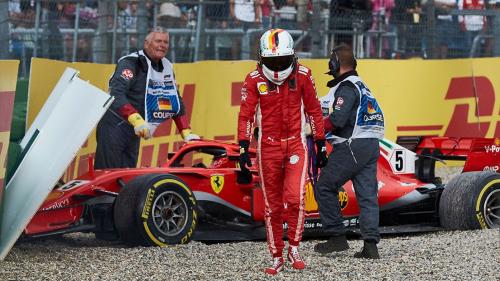 Vettel's incomprehensible crash at Hockenheim damaged his title hopes. Photo credit: Wide World of Sports