Vatican press office head quits in papal reshuffle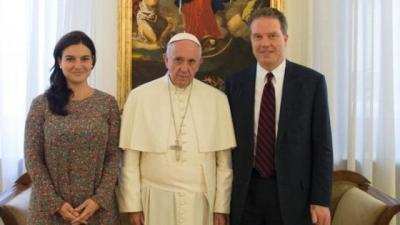 Pope Francis with Paloma and Greg Burke
 VATICAN CITY -- The American head of the Vatican press office, Greg Burke, has resigned together with his deputy, Paloma Garcia Ovejero, the Vatican announced Monday, as the firece infighting between detractors and supporters of Pope Francis evidently intensified.
  Alessandro Gisotti, formerly responsible for social media in the Holy See, was named interim director of the Holy See press office.
 "Paloma and I have resigned, effective Jan. 1," Burke said in a tweet. "At this time of transition in Vatican communications, we think it's best the Holy Father is completely free to assemble a new team." "I joined the Vatican in 2012. The experience has been fascinating, to say the least. Thank you, Pope Francis. Un abrazo muy fuerte."
 Just two weeks ago the pontiff made other changes in his communications team, naming journalist Andrea Tornelli, editor of the Vatican Insider, as new director for Communications while writer while essayist Andrea Monda was named editor of the Osservatore Romano replacing Giovanni Maria Vian.
 jp