Gates lambasts "outdated and inefficient" UN agencies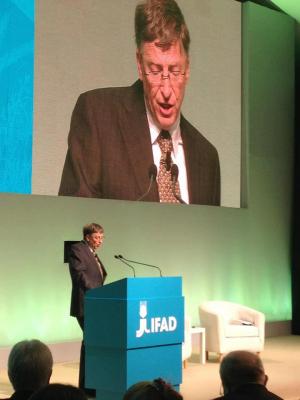 Bill Gates called for better cooperation between the UN Rome-based agencies
ROME -- Bill Gates, speaking at the UN International Fund for Agricultural Development (IFAD) Governing Council, has criticised IFAD and other international food aid organisations for "not doing as much as they should have to fight hunger and poverty" in recent years and called for large-scale reform.
 "The world's agriculture and food system is now outdated and inefficient. Countries, food agencies and donors aren't working together in a focused and coordinated way," he said.
 The American philanthropist and entrepreneur looked towards the future, however, saying that now, while the world's attention is caught with the African Union and the G20 focussing on agricultural development, "today we have the opportunity and the obligation to imagine a different future."
 Just before Mr Gates took to the stage at IFAD's Rome headquarters, the Bill and Melinda Gates Foundation, the charity founded by him and his wife, signed a partnership agreement with IFAD. Mr Gates said that he is now "looking forward to seeing what we can accomplish when we work hand-in-hand with (IFAD) President (Kanayo) Nwanze, Kevin Cleaver, and their colleagues."
 He also welcomed the income of new UN agency leaders Graziano Da Silva of FAO and soon to be chief of WFP, Ertharin Cousin, saying that they "represent an exciting new generation of leaders with the ambition to revitalize the international agricultural system."
 He called for a better system of monitoring the performance of individual sectors, a set of "public scorecards."
 "As it stands, we don't really know what's working and what isn't. Consequently, we can't separate the policies and strategies that work from those that don't—and leaders who consistently get bad results also consistently remain in their posts," he said. Public scorecards would allow for better organisation of the system and enhance accountability of each part of the system.
 Mr Gates also demanded better coordination between the Rome-based UN Agencies, saying that currently WFP takes leadership of nearly every part of the programme, "but in an ideal world, you would collaborate to make a whole that is greater than the sum of its parts… there are real efficiencies to be gained by spelling out a clearer division of labour among the three agencies."
 Mr Gates encouraged use of new technologies and innovative practices. "From genomic science to information technology, new discoveries are making it possible for us to solve old problems. A huge part of the job we share is bringing today's breakthrough agricultural science and technology to poor farmers."
 Crop breeding, training techniques, yield prediction, weather forecasts, all have seen significant technological developments that can help poor rural farmers in real terms. He warned that if the international community can't find a way to channel the digital revolution "they'll fall generations further behind."
 Mr Nwanze said that he was thankful for Mr Gates' "thought provoking, fresh perspective," and announced that the Fund would indeed pursue closer cooperation with its sister agencies FAO and WFP.
 A panel of agricultural experts took the floor after Mr Gates' presentation, and discussed how to implement strategies and policies for the support of smallholder farmers, for as Akinwunmi Ayo Adesina, Nigerian Minister of Agriculture observed "we can talk all we want, but farmers do not eat words."
 The Minister for Food, Agriculture and Livestock for the Republic of Turkey spoke of the experience of his own country, which has tripled food production in recent years. Mehmet Mehdi Eker said that one important system introduced in Turkey was that of the government financing the employment of thousands of vets and agricultural engineers to live with small rural villages and provide advice on vaccines, faring methods etc. and for the smallholder population. By the end of this year, there will be 10,000 of these professionals dispensing valuable information to the entire smallholder population of Turkey.
 As the theme of the Council was double barrelled to focus also on climate change, the Ministers also spoke of the need to adapt practices as global warming progresses. Better weather stations to allow farmers to plan the sequence of crop planting and a crop insurance system were advocated by Adesina.
 One strong message that came out of the Council was the imperative importance of supporting smallholder farmers, Adesina stated that smallholder farmers make up 80 percent of the farming population in Nigeria, and Nemesia Achacollo Tola, Bolivian Minister of Rural Development and Land, said that in Bolivia, production is performed "to the tune of 85 per cent by smallholders."
  Mr Nwanze said that "there is only one way to ensure sustainable development, and that is to focus on small farmers who live in developing countries."
 jp-ab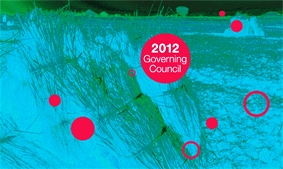 The 35th Session of IFAD's Governing Council took place from Feb 22-23