Mediterranean influences in Alvar Aalto building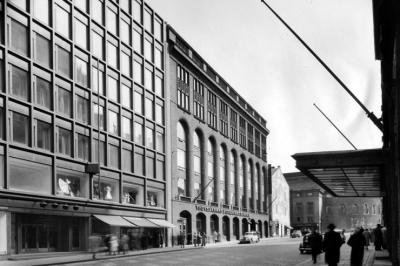 Alvar Aalto museum (Gianfranco Nitti)
HELSINKI - A small exhibition, closing at the end of December, produced by the Alvar Aalto Foundation presents the architecture of the Rautatalo building completed on Helsinki's Keskuskatu Street in 1955.
 It illuminates Alvar Aalto's more private side, such as his family life and numerous journeys to the Mediterranean. Aalto travelled many times to Italy, spending his honeymoon there in 1924.
 From his travels Aalto brought back influences on his architecture, which are evident in the open, piazza-like Marmoripiha Courtyard framed by the Rautatalo's office spaces and its interior walls clad in Carrara marble and travertine. In Aalto's designs this Italian-style piazza was to be open to city dwellers, a space filled with the hum of conversation that gets natural light from skylights.
 The exhibition in the Marmoripiha Courtyard consists of pictorial material from Aalto's trips, with printed information in Finnish, Swedish and English.
Open until Dec. 31, 09.00-16.00, free admission
pm