All things Scottish celebrated at Villa Wolkonsky party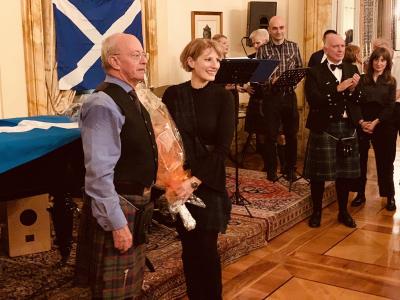 Photograph posted by C_Leaver on Twitter and retweeted by Ambassador Jill Morris: Ambassador at Villa Wolkonsky's St Andrew's Day party
ROME - A magnificent party was held at Villa Wolkonsky to honour St. Andrew's Day. Dressed tip to toe in kilts and authentic tartans, guests participated in traditional Scottish dances to honour the patron saint of Scotland, St. Andrew.  
 "As the Scots say, 'partying is something that we do well in Scotland, and if there is one day of the year when we let ourselves go, it is absolutely St Andrew's Day!'" said British Ambassador Jill Morris as she welcomed guests to dance on the Residence's polished wooden floor.
 The 'caller' John McGhie guided guests through the steps of traditional dances such as 'Cumberland Reel' and 'Dashing White Sergeant.' Guests were also treated to a performance by the 'City of Rome Pipe Band', Italy's first bagpipe and Scottish drum band.
 The 'Rome Scottish Country Dance' group, who only recently made their performance debut, took to the floor during the evening. The company meets every Wednesday in St. Andrew's Church of Scotland, located on Via Venti Settembre, to "share the passion for Scottish culture and dance."
 A buffet of salmon canapés was also served, in keeping with the Scottish theme. "Scotland is a splendid country, rich in tradition and fantastic people," the Ambassador declared.
 fh