Auditorium Conciliazione hosts UN culture concert for Syria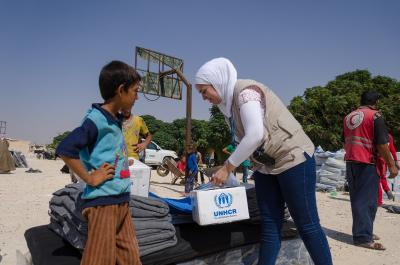 ROME – The United Nations Refugee Agency has combined with 'Artainment Worldwide Shows' to produce 'Special Night for Syria' on Dec. 6, a cultural event to display solidarity with the plight of Syrian refugees over the winter months.
 The evening, held at the Auditorium Conciliazione di Roma, will feature a recital from Italian actor Sergio Castellitto of 'Prayer of the Sea' ("Preghiera di Mare"). The haunting monologue, written by UNHCR Goodwill Ambassador Khalen Hosseini, explores the emotions of a father as he embraces his son on the night before they embark upon a sea voyage in the hope of finding safety. Since the beginning of political instability in the country, over five and a half million Syrians have had to flee their homes, many making similar treacherous journeys to the one described by Hosseini.
 Castellitto's reading will be accompanied by two Syrians who managed to escape the conflict, Alaa and Haian Arsheed, playing the violin and viola. The brothers fled the country as the civil war broke out in 2011, before Alaa made his way to Beirut in 2015. There he happened to meet Alessandro Gassmann, who was making a documentary about Syrian refugees for the UNHCR. Alaa became a key figure in the film, before moving to Italy a few months later.
 Before the recital, an exhibition entitled 'The Last Judgement: Michelangelo and the Secrets of the Sistine Chapel' will be presented, accompanied by the voice of Pierfrancesco Favino and a moving soundtrack.
 The UNHCR representative for Southern Europe Felipe Carmago has expressed his deep gratitude to 'Artainment' for their role in the organisation of such a significant event. "We are absolutely convinced that art can be a hugely effective tool in recounting and understanding the tragedies experienced by the Syrian people."
 Tickets for the evening are available at giudiziouniversale-forsyria.vivaticket.itor at the event box office, Via della Conciliazione, 4. All proceeds raised by ticket sales will go to the UNHCR for their work with refugees.
pm