Global warming increasing food insecurity, FAO says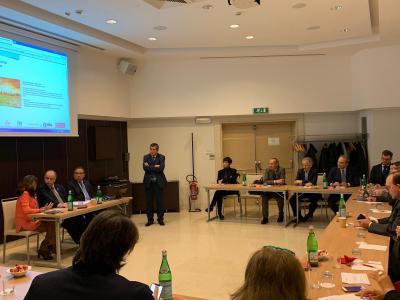 ROME – At a Mediatrends meeting between journalists and South American ambassadors, the Communications Director for the United Nations Food and Agriculture Organisation spoke of the danger caused by global warming to the self-sustainable lifestyles of millions in Latin America.
 FAO employee Enrique Yeves joined Costa Rican and Colombian ambassadors to Italy, Ronald Flores and Isabel Ramirez, on a panel to discuss the issue of the environment in Latin America. Ambassador Flores outlined the increasingly negative impact of climate change on Costa Rica, in particular, the agricultural sector, which has huge commercial significance. The biodiversity of mountainous and arboreal areas of the country is at huge risk, Flores emphasises, thanks to the increasing temperature. Additionally, mangrove forests are a pivotal part of Costa Rica's complex ecosystem but are being damaged by the change in climate.
 Temperature increases are not only affecting the environmental features of Latin America, but they also increase the likelihood of natural disasters, which can fundamentally impact a community's access to food in an agriculturally-focussed country, FAO' Yeves explained. Between 2015 and 2016, around 3.6 million people faced an emergency shortage of food because of the effects of El Nino in Guatemala, El Salvador and Honduras, from which thousands have tried to reach America via Mexico.
Ambassador Ramirez addressed the issue of production in Colombia, as it can be hugely damaging to the environment, despite its economic benefits. However, she maintained, the issue can be contained through adequate education on the damaging effect of production without forethought about the environment, in combination with the implementation of governmental controls.