Salvini blasts 'shameful' Malta over latest migrant arrival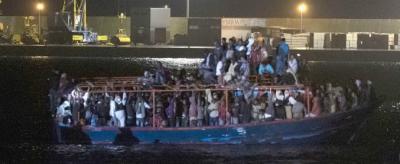 POZZALLO – Interior Minister Matteo Salvini renewed his verbal assault on Malta on Monday after reports of the arrival of a boat with 264 migrants on board, Il Fatto Quotidiano has reported.
 The Interior Ministry has confirmed that amongst the 264 people on board the vessel, which landed in Pozzallo, Sicily, there were 12 children, including five new-borns, and 50 women of Eritrean origin. Local police have reportedly already identified the two smugglers onboard, a Libyan and a Tunisian.
 The UN Refugee Agency called it "a miracle" that the migrants were still alive, given that "they have been at sea for three days without food and water." Among the 12 children onboard, one was 15-day-old girl, whose mother, just 19, told rescuers that she was raped in a Libyan detention camp and gave birth to her daughter alone in a hangar. The Insider reported on Friday that the UNHCR has called for an end to detention for migrants in Libya (http://www.italianinsider.it/?q=node/7461). The Agency has now renewed its demand in response to the ordeals suffered by the migrants, stating that they had endured "torture, abuse and malnutrition" at the hands of traffickers.
 In previous weeks, Salvini has been highly critical of the Maltese government's involvement in providing support for migrant ships attempting to cross the Mediterranean, claiming that they were being directed deliberately towards Italy.
 The latest arrival has once again drawn comment from the Deputy Prime Minister, who has branded Malta "shameful" over the assistance it gave to the boat. "Who knows if they will waste any ink in Brussels to send letters reprimanding Malta," Salvini added, criticising the European Union for their apparent lack of action regarding the flow of migrants across the Med to Italy. The boat was intercepted in Maltese waters, Il Fatto reports, and was not only given assistance by Valletta authorities, but also allegedly rerouted.