Doctors without Borders migrant ship 'Aquarius' seized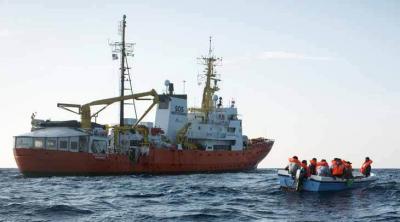 CATANIA – A Doctors without Borders vessel was precautionarily seized on Tuesday morning on suspicion of having discharged hazardous waste in Italian ports, police sources report.
 Investigations led by Catania's public prosecutor's office allegedly uncovered 44 cases of illegal waste disposal by 'Aquarius', which has been held in Marseilles, and another ship used by the NGO, totalling up to 24,000 kilograms of waste.
 Interior Minister Matteo Salvini praised the seizure and was quoted as saying, "I did well to block the NGO ships, I stopped not only the traffic of immigrants, but also, as has been uncovered, harmful waste," suggesting that his main priority was, in fact, tackling the migrant support offered by Doctors without Borders.
 The NGO strongly condemned the decision to seize 'Aquarius', characterising the action as a "disproportionate measure … aimed at once again criminalising medical-humanitarian action at sea."
 Accusations against Doctors without Borders are in reference to 'Aquarius' from Jan. 2017 to May 2018 and a second ship, 'Vos Prudence', from March to July 2017. A total of 24 members of both crews have been investigated for "planning and executing the illegal disposal of a large quantity of hazardous waste" in 11 ports across Italy, including Catania. The public prosecutor has suggested that the offending materials included "contaminated clothing worn by non-EU citizens," food waste and medical waste.
 Director General for Italy of the multi-national NGO Gabriele Eminente, in response to the accusations and seizure of 'Aquarius', said, "we are ready to clarify the situation and explain the procedures we have followed, but we strongly reaffirm the legitimacy and legality of our humanitarian action." "The only crime we see in the Mediterranean today is the complete dismantling of the 'search and rescue' system," Eminente added.
pm