Mancini confident that Italy 'can compete'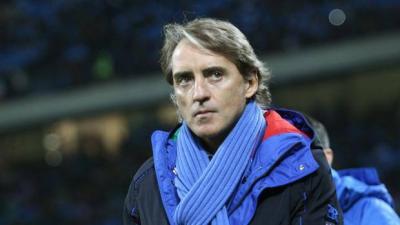 ROME – Reflecting on his side's disappointing 0-0 draw against Portugal at the weekend, Italy manager Roberto Mancini expressed his optimism for the future in an interview on Rai 1 on Sunday.
 "This team has demonstrated that in the future we can compete for anything. We can only improve," the recently appointed manager said. "We've got some amazing young guys," he continued, "they just need some experience." Mancini's focus on bringing through youthful players into the national team has been widely lauded as early signs of a new dawn for Italian football.
 A series of missed opportunities led to a frustrating goalless draw against Portugal on Sunday, though Mancini found positives from the performance. Midfield partnership Marco Verratti and Nicoló Barella were afforded praised by their manager, as they dominated the centre of the park and created a number of excellent chances for the forward line, who struggled for accuracy throughout the game.
 Portugal looked out of ideas for the entire 90 minutes, recording just one attempt on target that was duly stopped by Gigi Donarumma. Defender Giorgio Chiellini, playing his 100th game for the azzurri, ensured that the Portuguese forwards were kept quiet with a consummate performance. The absence of Cristiano Ronaldo, who has taken a break from international football following his move to Juventus, was abundantly clear as the Portugal line-up lacked any cutting-edge quality.
 Despite a very poor display, a draw was sufficient for Portugal to qualify for the Nations League semi-finals as winners of Group A3. With seven points from three games, Portugal cannot be overtaken by Italy, who have played all of their fixture, and now face Poland in a dead-rubber. Were Italy to have snatched a victory, their qualification would still have been unlikely, as a Portugal win against Poland would have guaranteed their place in the semi-finals. As it is, the draw seals Italy's position in the top tier of the competition for its next iteration, a good achievement for a team still developing under Mancini.