Fire in Neapolitan railway tunnel injures five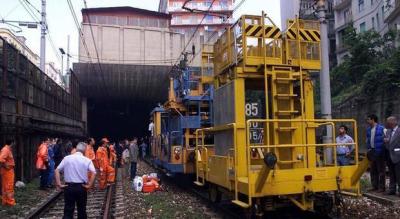 ROME - A fire broke out in the Santa-Lucia railway tunnel on the Naples to Salerno line at 2.35 a.m. Friday. Since maintenance operations were in progress at the time of the incident, all rail traffic on the line had been suspended. According to reports, five operators were injured in the incident.
 The explosion of a bottle used in the maintenance procedures reportedly caused the fire to break out, while sparks from a locomotive between Nocera Inferiore and Salerno apparently enabled the fire to gain intensity.
 According to reports, 20 percent of one worker's body suffered major burns. His hands and face have been severely injured. A forty-year-old man has also been sent to Antonio Cardarelli Hospital in Naples with third-degree burns, though medical staff have reportedly indicated his life is not in danger.
 All railway traffic was blocked for a short period, and substitute buses were called into operation. Replacement services, primarily buses, are currently in operation as a subsitute for the Salerno – Caserta railway. Buses between Salerno and Nocera Inferiore, as well as the Salerno – Napoli Campi Flegrei metropolitan line, should also used to help people reach their destinations.
 Rete Ferroviaria Italiana (RFI), Italian railway infrastructure manager, has expressed its solidarity towards the workers involved, and is reportedly "examining the causes of the incident" in further detail.
 fh